When it comes to powering dingies and other small watercraft, having a reliable and powerful outboard is very important. In today's market, there happen's to be two big categories for outboard motors, electric and gas. Both of which have their pros and cons, this article will help you decide which is best for you.
If you want to skip past all this junk about gas and electric outboard motors and just get to what's the best outboards, click here or scroll down.
Whats the difference between small gas/propane outboards and electric outboards?
Before we get into the best outboards, it's important to know which is best for your watercraft and your personal preference. I wrote a whole article on this topic alone which you can check out by clicking here, but if you don't feel like doing that I'll sum it up quick.
First off, it's a good thing to say that gas outboard engines are generally the better option for most people due to their affordable price and wide availability. Although In my opinion, when it comes to small outboard motors, electric outboards are significantly better than gas ones. The only problem (which is a big one) is the price.
Generally, you will have to pay Around 2 times more for an electric outboard when compared to the same power gas outboard. This is due to the high cost of batteries and battery chargers, many of which cost as much as the electric motor itself.
The sleeper pick in between these two is propane. Propane takes the best of both worlds such as the cheap price of gas outboards and low maintenance of electric outboards. This makes them my favorite for people who don't feel like paying the premium of electric outboards.
Pros and cons of electric, gas, and propane outboards
To start off let's do electric outboards:
Electric outboards
Now here are gas outboards: (keep in mind I'm not at all biased or trying to sell a certain type of outboard to you, just giving my honest opinion and stating the facts).
Gas outboards
Propane outboards are a good mix between gas and electric as they have many traits of both.
Propane outboards
So if you do have the money, I would recommend finding a good electric outboard that fits your needs. I show the best electric outboard brands below. But if that's not the case I would go with propane as you get the best of both worlds. Gas of course will be the most common due to the very large availability and stability they have on the market.
What kind of boat do you have?
Something to consider when purchasing a gas or electric outboard is what kind of boat you have. For dinghies and small watercraft, having an electric outboard may be perfect because you don't need to go very far or very fast. Something like the 2 hp Torqueedo Travel 603 S, might be the perfect option.
Let's make a list of the best small outboards depending on your specific watercraft:
Best small outboards by watercraft type
Water Craft Type
Electric
Gas
Dingy
Minn Kota Endura C2 (cheap)
2hp Torqeedo Travel 603 S
Suzuki DF9.9
Sailboat
EP-9.9 Electric Outboard (larger sailboats)
3hp Torqeedo Travel 1103 CS
Honda Marine BF9.9
Jon Boat
EP-20 Electric Outboard
Mercury 5hp FourStroke Propane
Honda BF20 (Power)
Trolling
Minn Kota Terrova (bow)
EP-5 Electric Outboard (kicker)
Honda Marine BF9.9 (Kicker)
So depending on whether you prefer gas or electric, there are plenty of good options available to you. Below I will list all of the best small outboards and explain why and how/where to buy them.
Best small gas/propane outboard motors
First of I want to state that pretty much any outboard from the top brands Mercury, Yamaha, Honda, Suzuki, and now out of business but still good company Evenrude, will all work great. If you buy from them, your motor will be just fine, but after collecting data and testing outboards out myself, I have discovered which ones might have a slight edge over the other.
1. Honda BF Series
Honda is known for being the most reliable and easy to work with motors on the market. Although they may be ugly, if you are looking for minimal headaches, and a reasonably cheap price, this is the brand for you.
Honda outboards also tend to be much cheaper to service due to the fact many of the parts are interchangeable with car parts. So if there's someone who services Honda near you (many dealers do), it's almost a no-brainer to go with this brand.
If You are interested in getting one, they are available at websites such as CampingWorld.com and many local dealers. Honda makes models starting as low as 2.3 horsepower and up to 250.
2. Murcery FourStroke Propain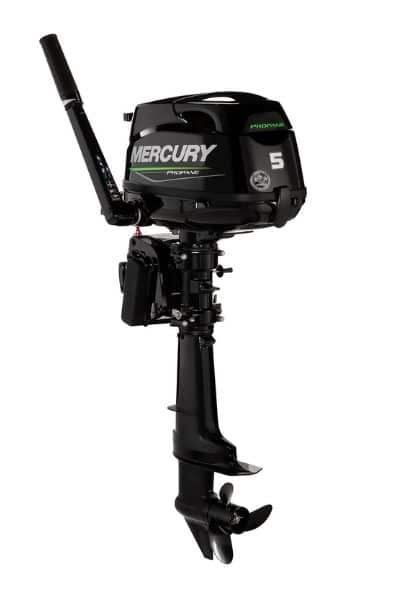 The Mercury propane outboard is obviously quite unique as it uses propane instead of conventional gasoline to fuel the engine. It cost just a little bit more than a gas outboard with equivalent horsepower at $1,750.
The advantage of being fueled by propane is the convenience of not having to carry around heavy gasoline tanks around, and instead just propane tanks which are much lighter and more convenient. It also causes 30% less air pollution than similar gas outboards and does not require much maintenance at all.
On a large tank of propane (5 gallons), the engine will run continuously for 10 hours on full throttle! And Mercury promises it to be very reliable and last very long.
This is the perfect outboard for those who love to bring their dingy or Jon boat on camping trips. The same propane you use for the grill could be used by this outboard. You can purchase it online at West Marine by clicking here.
If you want a higher horsepower propane outboard, check out the number 4 on the gas list.
3. Suzuki DF Series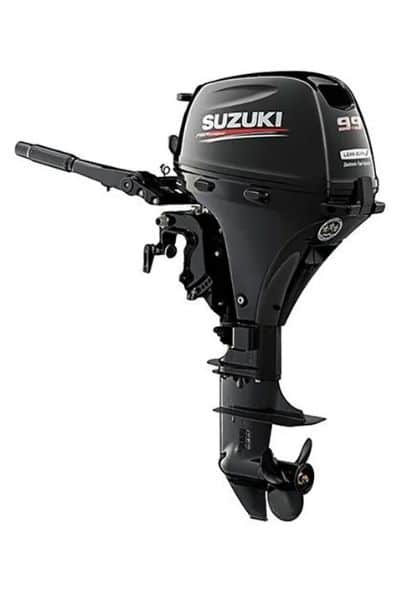 Similar to Honda, Suzuki's are very reliable and very easy and cheap to work on. Suzuki may not be as popular as brands such as Yamaha and Mercury, but that does not mean it's less reliable at all.
The reason why I placed Suzuki outboards at 3 is because of the low prices for almost the exact same motor as other companies. Suzuki motors tend to always be a couple hundred less compared to the other big brands.
If you are looking to get your hands on one, you can find the 9.9 horsepower and 4 horsepower models online at CampingWorld.com by clicking here.
4. Lehr Propain Outboard Motors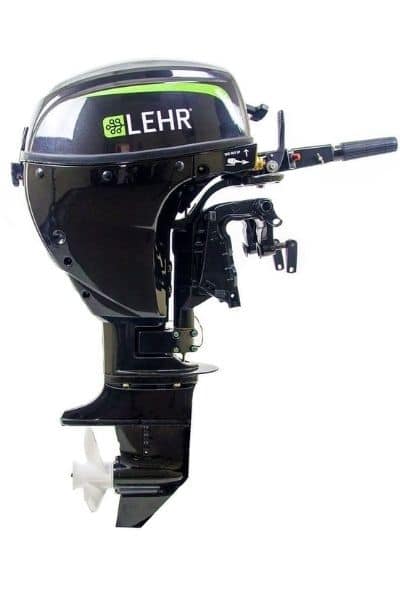 Lehr is the original propane outboard company before Mercury entered the market recently. Their outboards are unique because they have models that go from 2.5 horsepower all the way to 25 horsepower. All of which are propane-powered.
These outboards are extremely durable. I can prove that by telling the story of how the one I got for my jon boat had fallen off into the water (fully submerged) for a whole week and I was still able to get it to start after drying it out.
There are not as many dealers for this as other brands such as Mercury therefore I did put this low in the list, but it's still an extremely good outboard. You can find them at MarineEngineDepot.com or find a dealer on their website here.
Best small electric outboard motors
Now we can get into the fun. Small electric outboards are very new to the market and many of the companies making them are very new. The brands that have stood out to be reliable so far are Minn Kota, Elco, Torqueedo, and ePropulsion. Any motor from them should work perfectly fine, but here are my favorite and why:
1. Minn Kota E-Drive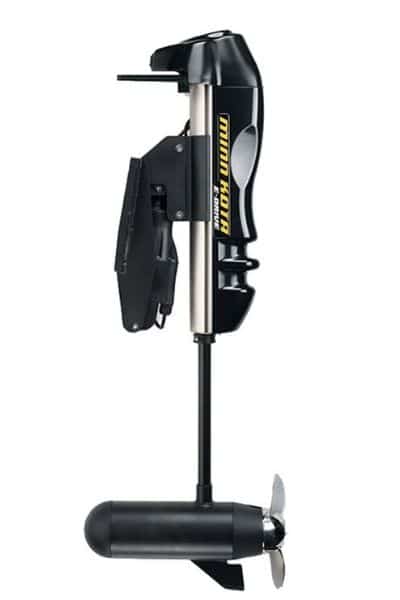 Minn Kota E-Drive ranks number 1 on my list because it is made from by far the most reputable brand in the electric outboard market. Not only that, but Minn Kota released the first model of this outboard literally over a decade ago.
Being ahead of their time, they have learned a thing or two making them by far the most reputable brand on the market. Although, unfortunately they only make a 2 horsepower model (which is enough to push small sailboats and pontoon boats in calm water).
You can find the Minn Kota E-Drive on CampingWorld.com by clicking here. The price is not cheap though, high quality equals a high price especially in this market.
2. Elco EP Series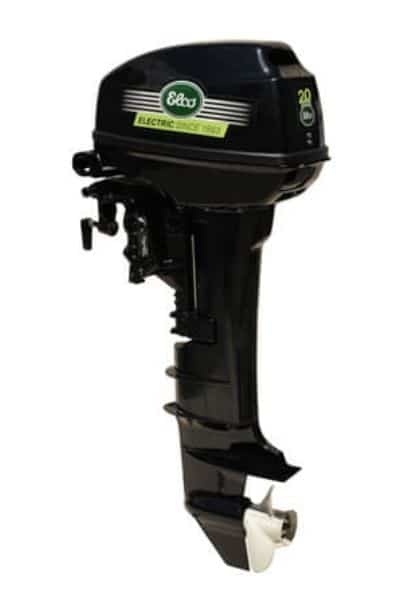 Elco has been in the electric propulsion game for more than 125 years. Now that electric propulsion has been gaining much more popularity, they have designed and manufactured one of the best electric outboards in the industry.
What makes Elco unique is not only are they a very old and well-established brand, they also have electric outboard models ranging from 5 horsepower all the way to 50 horsepower.
Of course, Elco outboards are more expensive than similar gas outboards especially when adding the cost of batties, but when compared to other electric brands they actually are significantly cheaper. This does not make them worst by any means.
The 10 horsepower model Elco costs a whopping $1,689 cheaper than Torqeedo's (another reputable brand) 10 horsepower model. If you want to purchase it, check out the Elco website by clicking here.
3. Torqeedo Travel and Cruise Series
Not only is Torqeedo a reputable brand you can trust, but they also are the market's best when it comes to creating efficient electric outboard motors.
Elco claims to be 14-26 percent more efficient than other electric outboard brands. Of course, because of their premium product, you do pay a premium price.
If you don't mind forking over the extra cash, I can confidently say this is the outboard for you. Especially if you live around the central/north east coast or the Great Lakes as they have many service dealers around there.
Torqeedo also has outboard models that go all the way to 80 horsepower which is the highest on the market for electric outboards. If you want to purchase one, check them out on WestMarine.com or their website here.
4. ePropulsion outboards
I would not recommend this brand for people living outside of California and Florida because of the lack of dealers outside of those states, but ePropulsion is a great brand that has been very innovative.
Just like Elco, this is significantly cheaper than Torqeedo yet it's still very efficient and made by a very innovative company.
If you want to check it out, go to ePropulsion.com by clicking on the link.
Conclusion
All of these outboards are great, but the main thing is if you want electric, gas, or a propane outboard. Electric is best for those who need it due to restrictions or people who have enough extra cash to afford it. Propane is best for people who bring their outboard camping or want the best of both worlds, and regular gas outboards are best for those who don't want to spend a lot of money, nor really care about filling their gas tank up with heavy gas.