The two most popular materials used to make boats are one: fiberglass and two: aluminum. The boat on the left in the image above is made of aluminum, and the one on the right is made of fiberglass. Even if you've never gone boating before, you've probably seen boats made out of these materials before.
Finding out what material is best for you may be difficult as there are many different advantages and disadvantages of each material. However, this article will help you determine this by letting you know everything there is about the differences between aluminum and fiberglass boats.
But before we dive deep into it, here's a table that shows a couple of topics and if aluminum or fiberglass is better at the topic.
| Topic | Which material is better |
| --- | --- |
| Cost | Aluminum |
| Durability | Aluminum |
| Design | Fiberglass |
| Ability to handle rough water | Fiberglass |
| Comfort | Fiberglass |
| Simplicity | Aluminum |
Continue reading to understand more about these topics.
What's the difference between aluminum and fiberglass boats?
Aluminum and fiberglass both technically do the same thing: They are the structure of your boat and what keeps floating. However, when we look at them more specifically, there are many differences that are worth noting.
---
Aluminum boat pros
They're light. This allows them to go faster, require less power, require less fuel, and be transported much easier than similarly sized fiberglass boats. They are also much easier to launch and handle when docking.
They're cheap. Aluminum boats tend to be around 25%-35% cheaper than similarly specced fiberglass boats.
They require little maintenance. Aluminum doesn't need to be waxed or polished nearly as much as fiberglass does. Along with that, aluminum does rarely crack and will rarely rust. If you were to hit something, aluminum will generally just dent, which will cost a lot less to fix than a crack in fiberglass.
They last longer than fiberglass. Because of aluminum's resistance to UV and water corrosion damage, they last very long. Many times aluminum boat manufacturers will even offer lifetime hull warranties because they are that confident the boat will last.
Aluminum boat cons
Can corrode in saltwater. Metal and saltwater generally don't mix well, and although aluminum is known for its extreme resistance to corrosion, it can still be damaged by saltwater. This is why it's generally not recommended to leave aluminum boats in saltwater for extended periods of time unless you maintain them correctly.
They get blown around by the wind. Since aluminum is so light, many boats made from it react to forces more aggressively than heavier boats. This causes the wind to blow these boats around and make it hard to dock, fish, cruise, etc.
They don't handle rough water well. Again, because aluminum is so light, forces such as waves also have a big effect on them. Many times instead of cutting through waves, aluminum boats will go over them, which makes the ride less pleasant for people aboard.
Aluminum makes a lot of noise. When waves smash against the hull of an aluminum boat, it's going to make a lot of noise.
---
Fiberglass boat pros
They can be designed more intricately. Aluminum can only be welded into so many shapes, but fiberglass can be designed basically n any way you want. This means fiberglass boats are generally better looking and have more advanced designs than aluminum boats.
They handle waves and wind well. Fiberglass boats similar to size and shape of aluminum boats, will generally handle waves and wind better due to having more weight and the ability to be more intricately designed.
More widely available. Fiberglass is the most popular material used for making recreational boats, so it's easy to find them on the market no matter what type of boat you want to get.
Fiberglass boat cons
They are expensive. Most fiberglass boats cost more than similarly specced aluminum boats. This is because high-quality fiberglass and resin is more expensive than aluminum.
Prone to cracking. Fiberglass can crack very easily if you were to hit anything such as a rock pile, dock, or trailer.
Needs constant maintenance. Fiberglass boats should be waxed once every 3-4 months if they're exposed to the sun and water regularly. Along with that, fiberglass generally needs to be washed more than aluminum in order for it to keep its gel coat looking shiny.
---
Do aluminum or fiberglass boats cost more?
Prices between boats vary on many factors such as brand, features, age, motor, etc. However, fiberglass boats generally cost around 25%-35% more than similarly specced aluminum boats. Meaning similar features, engines, size, style, etc.
We can see this when we look at a comparison of a couple of top manufacturers who make aluminum and fiberglass boats of similar spec. Below I've listed this, the boat and price on the left is an aluminum boat, and the right is fiberglass. Each of which has very similar specs:
| Aluminum boat | Price | Fiberglass boat | Price |
| --- | --- | --- | --- |
| Ranger RT188P | $34,995 | Ranger Z518 | $52,995 |
| Lund 1875 PRO-V SPORT | $56,833 | Lund 189 TYEE GL | $60,811 |
| Vexus AVX2180cc | $48,233 | Vexus VX-20 | $83,673 |
As you can see, fiberglass boats generally cost much more than their aluminum counterpart. I would say that the fiberglass boats mostly look better than the aluminum ones. For example, here is a comparison of the Ranger RT188P (on left) and Ranger Z518 (on right):
But does it really look $18,000 better? not in my opinion. Not to mention that the aluminum Ranger has hydraulic anchor poles, while the fiberglass one does not. Both are the same length, both have similar electronics, and both have similar motors (aluminum is 115 hp, and fiberglass is 150 hp).
However, there's more than just looks when comparing aluminum to fiberglass, as you've read from the pros and cons section above. In the next sub-heading, I will go over one of the biggest differences I mentioned. For many, this may be the dealbreaker for aluminum boats.
Do aluminum or fiberglass boats handle waves better?
Size, shape, and weight are the three biggest factors that determine how a boat reacts to waves. The lighter a boat is, the more susceptible it is to getting bashed around by waves. This is why fiberglass boats handle waves better than similarly sized aluminum boats.
That's not to say that all aluminum boats can't handle rough seas, though. There are many aluminum boats built to handle rough wave conditions, such as the coast guard boat in the image below. However, because of how fiberglass weighs more and can be shaped in complex ways, boats built from it usually fair better in rough seas compared to aluminum boats.
Which should you buy?
When it comes down to it, it's up to you to determine which boat type suits your needs better. However, to help you even more, I created a quiz that you can take, and it will let you know what I believe to be the best boat material for you:
You should choose aluminum if…
You don't want to deal with much maintenance
You don't need the extra weight to handle wough water
You don't want to spend a lot of money
You boat in shallow water where you may hit a rock or log
You should choose fiberglass if…
You need the extra weight for handling rough water
You want a beautiful, intricately designed boat
You boat in saltwater and don't want to deal with keeping the salt off the aluminum all the time
You can also take this quiz which will let you know if aluminum or fiberglass will suit you the best:
Best brands for aluminum and fiberglass boats
Most manufacturers specialize in either fiberglass or aluminum and make all of their boats from that material. However, some brands offer both, such as Ranger Boats. Below, I've listed some of the best brands for each material and for each boat type:
Best aluminum boat manufacturers
Best for bass Boats: Lowe Boats
Best for Deep-V Boats: Lund
Best for Center Consoles: Lowe Boats
Best for Cuddy Cabins: Silver Streak Boats
Best fiberglass boat manufacturers
Best for bass Boats: Ranger Boats
Best for Deep-V Boats: Lund
Best for Center Consoles: Boston Whaler
Best for Cuddy Cabins: Formula
Best Cabin Cruisers: Tiara Yachts
Best Yachts: Westport Yachts
Are some boats made out of materials that aren't aluminum and fiberglass?
Yes, some boats are made out of wood, steel, and Rubberized synthetic fabrics. However, aluminum and fiberglass are the two most common materials used. I wrote a whole article explaining all the different types of boat materials here.
Wood boats are very good-looking but are not very durable and are susceptible to rotting. Here is what they look like: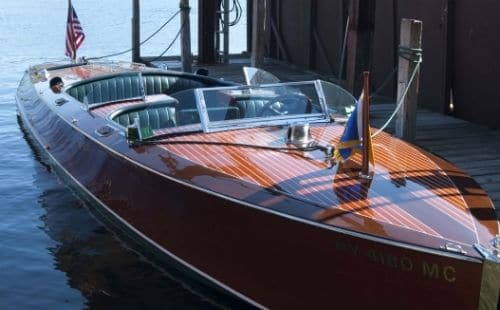 Steel boats are very durable but also too heavy for small recreational boats. They look like this: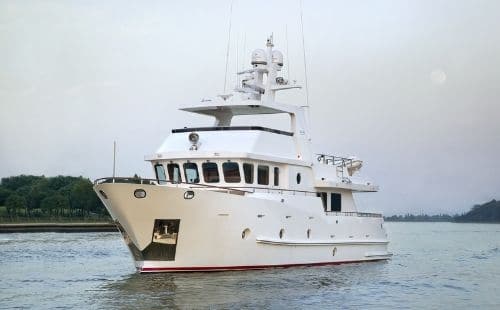 And rubberized synthetic fiberglass and PVC are sometimes used for dingies and inflatable boats. These are not durable but are very light and cheap to make. They look like this: