Yes, pontoon boats can be great for fishing, especially for freshwater fishing with large groups of people or families.
With pontoon boats being so commonplace on most freshwater lakes and rivers, many people may wonder whether they can use their boat for a fishing excursion or if they'll have to get a dedicated fishing boat.
I'm here to tell you that there's no need to use an entirely different boat for fishing if you already own or are thinking of owning a pontoon boat. For most styles of freshwater fishing, pontoon boats are excellent fishing vessels.
Let's go over what makes pontoon boats good or not so good for fishing so you can decide if they're right for you and your fishing style. We'll also discuss some upgrades and accessories you can get to turn your boat into a fish-catching machine!
Pros of Pontoon Boats for Fishing
There are many positive attributes of pontoon boats that make them great for fishing. First and perhaps the most obvious is that they have plenty of space for large groups or families.
Often on small fishing boats such as Jon boats or bass boats, there isn't much room to move around, and it can be very uncomfortable. Being crammed on a small boat can be especially unamusing for children, so if you want them to have a positive experience with fishing and boating, a pontoon boat is the best place to start.
Another selling point for fishing from a pontoon boat is they're great for boating trips where fishing isn't necessarily the primary activity. If you're heading out with your family, odds are not everybody will be interested in fishing all day. Pontoon boats are very versatile, so you can bring a few fishing rods to use when everyone else is ready to sunbathe or eat lunch after going swimming or tubing.
Lastly, with ample cushioned seating and a Bimini shade common on most pontoon boats, they're a super comfortable and downright luxurious fishing platform, so you'll be able to fish for hours on end in the utmost comfort possible.
Cons of Pontoon Boats for Fishing
As a boat type that's primarily designed and used for pleasure boating, there are some areas where pontoon boats understandably fall short as fishing boats.
First, pontoon boats are typically slow and cumbersome, making them difficult to navigate or use in shallow and tight areas that are often the best fishing holes.
That's where bass boats and Jon boats come in because they can get to areas other boats simply can't. Not to mention, if you want to compete in some sort of fishing tournament, a pontoon boat is going to be too slow to get you where you need to go within the time limit for the competition.
What Types of Fishing are Pontoon Boats Best For?
For the most part, pontoon boats are great for just about any type of freshwater fishing, whether that be bass, panfish, walleye, or catfish to name a few. They're not well suited or often used in saltwater, so pontoon boats can be ruled out for any type of saltwater fishing.
The best fishing scenario for pontoon boat fishing is on a calm day with a group of people using simple methods like bobber fishing to go after panfish like crappie and bluegills. It's a simple and enjoyable fishing style that people of all ages and levels of experience can enjoy, and the ample space and comfort will make it even more fun.
Trolling and catfishing are other great fishing styles for pontoon boats because both of those fishing styles tend to involve a lot of sitting and waiting. In the comfort of a pontoon boat, waiting for a bite is much more relaxing and enjoyable.
Fishing Accessories for Pontoon Boats
If you want to deck out your pontoon boat for fishing, there are a few simple accessories and upgrades you can install that will make your fishing trips more successful. You don't need any special skills to install these items in most cases, and they won't break the bank either.
Here are some great fishing accessories for pontoon boats:
In Summary
For the right situation, you can't beat fishing from a pontoon boat. If you're looking for a casual fishing vessel that can be used for many other popular boating activities, look no further.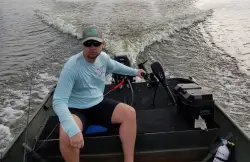 Latest posts by Alex Johnson
(see all)