Mushroom anchors are best used for small boats such as dingies, Jon boats, and PWCs. However, sometimes large mushroom anchors are used for anchoring buoys and moorings (source). There are two types of mushroom anchors: regular mushroom anchors and river mushroom anchors.
River mushroom anchor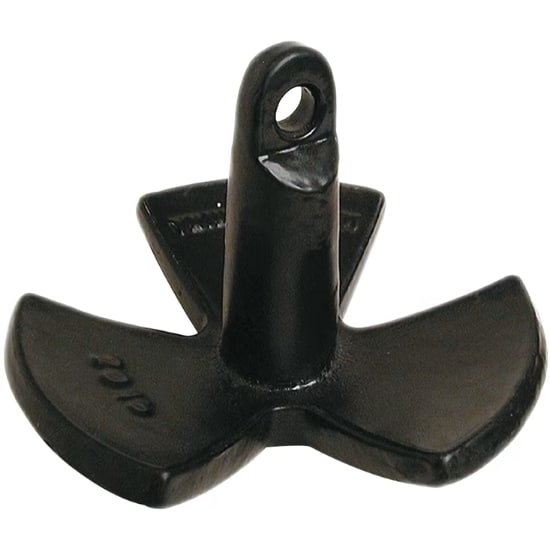 Can set in gravel, rock, mud, sand, and weedy sea beds and it's easily retrievable. Best for river fishermen that need to retrieve and reset their anchors very often.
Mushroom anchor
The regular mushroom anchor is harder to retrieve, but it has decent holding power for its size and sets very quickly. Not the best in rock, mud, or weeds.
The main reason to use a mushroom anchor is that they set automatically and quickly into mud or sand. They don't have as much holding power as fluke anchors, so they're meant mostly for fishing or brief anchorages for small boats. Mushroom anchors use suction and weight from mud/sand instead of digging into the ground, thus making it set faster as it doesn't have to dig into the ground.
Before we get more into mushroom anchors including what seabeds they can hold in and what size you need to get for your boat, let's look at the top 3 available on the market right now:
Top 3 mushroom anchors
In addition to an anchor, you should also get a proper anchor line such as this one. Most people only use rope lines for mushroom anchors, but if you anchor in areas with sharp rocks, you could also purchase an anchor chain such as this one.
What size mushroom anchor should you get?
The size of your boat will affect the size anchor you should purchase. However, with mushroom anchors, there isn't much variety in size. Most are meant for small boats (under 25 feet) and vary in weight between 8-20 lbs. However, here is what size I would recommend based on boat length:
| Boat Length (ft) | Mushroom Anchor Size (pounds) | River Anchor Size (pounds) |
| --- | --- | --- |
| under 10′ | 8lbs | 8lbs |
| 11′-14′ | 10-12lbs | 12-15lbs |
| 15′-19′ | 12-15lbs | 15-18lbs |
| 21′-22′ | 15-20lbs | 18-20lbs |
| 23′-25′ | 20-30lbs | 25-30lbs |
| 26′-28′ | 30lbs | 30+lbs |
Note: Weight is the primary factor in what anchor size you should get and not length, so if you have an unusually heavy boat such as a wake boat, make sure to get a very large size or consider purchasing a fluke anchor instead.
If you plan on anchoring in high current or windy areas, I recommend purchasing the anchor on the heavy end of the range. When it comes to mushroom anchors, a heavier anchor will hold significantly more while not taking up to much more space.
However, depending on your situation, another type of anchor may be best for you. Check out the article below to check out all the different anchor types to determine which would be best for you.
Who should use mushroom anchors?
Mushroom anchors are best for lightweight small boats (under 25 ft long) that need a fast-setting anchor in sand, mud, or silt bottoms. River mushroom anchors also can hold in weeds and rocks. So some types of boats that should use mushroom anchors include:
Kyaks
Jon boats
Dingies
Pontoon boats
Bass boats
PWC's
Remember that boat weight is the key factor in determining how much anchor holding power you will need and not length. So if you have a very heavy boat such as a wake boat, you should purchase a fluke anchor and not a mushroom anchor as fluke's have higher holding power.
7 best mushroom anchors
When it comes to boat anchors, there are many different brands. It's important to understand the good ones from the bad ones. Buying name brands will help ensure good quality. So when you are looking for mushroom anchors, look for brands such as:
Greenfield
Bass Pro Shops
Roloff
West Marine
These are sold on websites such as West Marine, Cabela's, and Amazon.
One of the big things you should look for when purchasing a mushroom anchor is if it has a PVC or vinyl coating or not. A PVC coating will add weight, make the anchor more resistant to corrosion, protects the anchor from scratching your boat, and deadends the sound when the anchor hits a boat. However, these anchors will cost more and are vulnerable to being ripped by sharp rocks causing the anchor to start to corrode.
When it comes to mushroom anchors, nobody makes them better than Greenfield does. This US-based company was the inventor of PVC-coated anchors, and they are great and making them. Their tight-fitting PVC layer not only looks great but will last a very long time.
This anchor's sleek design makes storing it extremely easy. And although it's sleek, it still has excellent holding power and sets faster than other mushroom anchors.
At number 2 is my favorite anchor on this list, the Roloff river anchor. Although the mushroom anchor above is great for sand and mud, river anchors can set in gravel, rocks, and weeds while also being able to set fine in sand and mud. And this anchor does this better than any other.
Although river anchors have slightly less holding power in sand and mud than traditional mushroom anchors, you can always get a larger size to negate this. Luckily, this river anchor by Roloff has many different sizes ranging from 8lbs to 30lbs.
So as long as you get the correct size I recommend, the anchor will have plenty of holding power.
Although this anchor does not have a PVC covering to protect your boat from dings and scratches, it has an aluminum paint covering that will keep it from corroding. Although less expensive, this anchor will last longer than PVC-wrapped anchors as the aluminum paint is less likely to be damaged.
If you have an aluminum boat such as a Jon boat, this anchor will make loud dinging noises when hitting the boat. This can be annoying and scare away nearby fish. However, if you have a carpeted boat, you should have no problems with this anchor.
This anchor would be best for people making long-term moorings where it doesn't matter if there is a vinyl covering or not and all that matters is how well the anchor holds and how long it lasts.
This anchor set gives you everything you'll need for proper mooring. It's great for anchoring water trampolines, PWCs, Jon boats, kayaks, etc. However it only comes in 8lbs, so if you're in a very high current area or have a large boat, you may need to purchase a different anchor.
Although this anchor does not come from a top brand, it has great reviews. Most people use it for anchoring their water inflatables and swim platforms; however, it can be used for mooring jet skis and other small boats. You could even use this anchor as a temporary anchor for a small bass boat.
You could go and buy all of these items separately such as purchasing this anchor buoy and a Polypropylene anchor rope; however, this will be significantly more expensive than purchasing this set that has everything in it and ready to go already.
This is another great high-end anchor from Greenfield. The only reason I didn't put this at the number one spot for river mushroom anchors is that there are only two sizes (12lbs and 30lbs) and its a part of the same listing as the other Greenfield mushroom anchor on this list which may make it a little confusing.
When it comes to river anchors, this is one of the best. The 12-pound model will be perfect for PWCs, Jon boats, kayaks, and other types of small watercraft. The 30-pound model will work for the larger bass and ski boats. Not only is this anchor one of the best, but it's also more affordable than many others on the market at $30 for the 12-pound model and $55 for the 30-pound model.
Bass Pro Shops may not be the most known anchor brand out there, but their mushroom anchor is vinyl wrapped and is about as good as any. After comparing it to other anchors on this list, it costs around $5-$10 more, but it is the only traditional mushroom anchor with a 20 lbs model.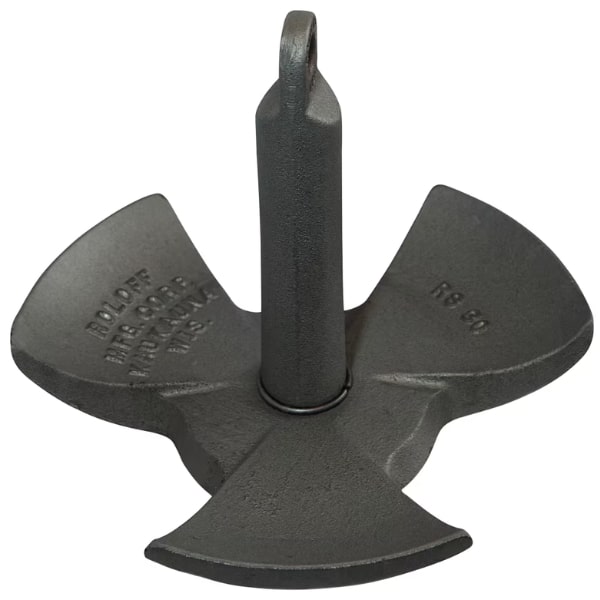 Last but not least on this list is another aluminum-coated anchor by Roloff. Although most prefer a vinyl coating, aluminum-coated anchors are great for people with carpeted boats where dinging noises and damage won't be an issue.
Aluminum-coated anchors will generally last longer than vinyl-coated anchors. Vinyl anchors are known for tearing on sharp rocks causing the anchor to start to corrode.
This anchor would be best for people making long-term moorings where it doesn't matter if there is a vinyl covering or not and all that matters is how well the anchor holds and how long it lasts.
Last look at my top-rated mushroom anchors