Dirt and other environmental debris can get in the pours of your gel coat and become almost impossible to clean. So, making sure you clean your boat every 2-3 weeks is a great way to help extend its life and help your boat hold its value over time.
If your boat is stained with mildew, click here to be brought to the subheading I talk about cleaning that.
What parts of a boat should you clean?
There are 4 different parts of a boat that require cleaning, each of which has slightly different cleaning processes (I explain them later). Here are the parts you should clean:
Exterior surface – gel coat, hull, fiberglass, windshield.
Interior surface – carpet, vinyl, deck, interior fiberglass, livewells.
Engine – engine parts, engine room
Wood – teak, marine plywood, etc.
How to clean a boat
You can find all the products needed to clean your boat by clicking this link. It takes you to an Amazon cart.
Check out this article "10 Best Boat Cleaning Products Every Boater Needs" to see all of the products you'll need.
Step-by-step guide for cleaning your whole boat
Here is a link to an Amazon cart full of all the products you need for cleaning a boat. If you have an aluminum boat, substitute the Meguiar's boat wash for this boat wash. Once you acquired these items, follow the steps below.
I recommend cleaning your boat at least once every 2-3 weeks.
Step 1 – Fill your bucket with soap and water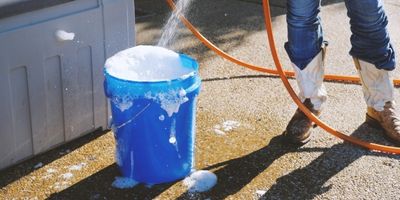 the soap I recommend is Meguiar's boat wash for fiberglass boats and Star Brite for aluminum boats. Links to them are above.
Step 2 – Dip your brush in the bucket and scrub the fiberglass, flooring, and windshield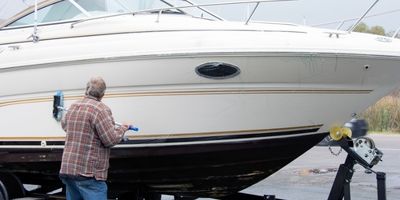 Make sure to avoid dropping your brush on the ground, where it can attract rocks that can scratch your paint. Along with your boat's hull, you need to also clean the non-slip fiberglass, which may take some deep scrubbing. Such as in the image below:
When cleaning the windshield, make sure to use a glass cleaner and if you're cleaning any plastic view guards, use this product.
Step 3 – wash any teak or wood
You can use soap and water to wash this just like the other parts of your boat, but every 1-2 years I recommend using a teak cleaner such as this one here for your wood. This will wash it and protect it from debris and UV damage.
Step 3 – clean your engine
The first thing you need to do before cleaning your engine is turn off or disconnect the batteries. Then proceed to hose your motor (try to avoid plugs and wires as much as possible).
You may want to get a soap sprayer like this one to properly apply soap much easier. Otherwise, you can dip your brush or microfiber cloths inside your soap bucket and apply soap all over the dirty parts of the motor.
Then just wash all the necessary areas with a brush or a microfiber cloth. By using cloths, you can get to the tough-to-reach areas much easier.
If you have an outboard, I recommend washing and waxing the exterior shell with this product.
Step 4 – If you have carpet, vacuum it
Make sure you get as much gunk off your carpets with a vacuum before washing them.
Step 5 – Wash your carpet and vinyl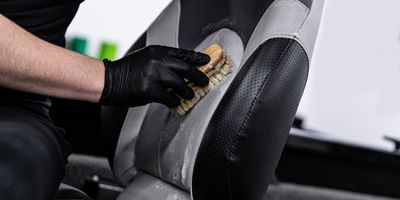 Use Ultimate Vinyl cleaner and a cloth or brush to clean all of the vinyl in your boat.
If you have a carpet, you will need to get a carpet cleaning product such as this one here. You can then begin spraying this product on the carpet and scrubbing it with your brush (you may need to get a stronger brush such as this one).
After you scrub the whole rug, spray a little bit of water all over the rug to soak up all of the suds. Then you will probably need a wet vacuum to suck up all of the water unless you can get it out another way. Here's a link to an affordable wet vac on Amazon.
How long does it take to clean your boat?
It takes about 2-3 hours to clean a boat that's smaller than 21 feet, 3-5 hours for a boat that's 21-31 feet, 4-8 hours for boats larger than 31 feet. So many times it's best to clean one thing every day you go out, in order to maximize time.
What to do if your boat is stained with mildew?
The best way to remove mold and mildew from your boat vinyl and hull is to spray it with a mold and mildew remover such as this one here. Then scrub with a stiff brush to get all the mold out. Afterward, you can use some water and a cloth to wipe up any excess mildew.
You can also use bleach for fiberglass and vinyl, but avoid using bleach on aluminum.
If the mildew is really bad, you may have to powerwash it out. Don't pressure wash vinyl with a high PSI because it could be damaged. If you are cleaning mildew off fiberglass or aluminum, 2,000 PSI should be good.
Best way to prevent mold and mildew on your boat
There are many things you can do to avoid mold and mildew, such as:
Use a boat cover
Keep your boat out of high humid areas
ventilate stagnant areas such as the engine bay
Clean it at least once every 2-3 weeks during usage
How to remove water stains from your boat?
Water spots can easily be washed away if you mix distilled white vinegar and water (1:1). Then spray the mix onto the water stains and wash them off with a cloth or brush.
However, if you have big water stains on your hull from water levels that aren't easy to get out. Use this hull cleaner.
How to remove barnacles and algae from your boat hull?
The best way to remove barnacles, algae, muscles, or any growth on your boat hull is with a power washer. However, make sure to wear safety glasses when using a power washer.
If you don't have a power washer or don't feel like getting one, you could also use this barnacle buster cleaner. You'll also need to get a stiff brush, and repair to use a lot of elbow grease to get everything off.
Can you use bleach to clean a boat?
Yes, you can use bleach to clean fiberglass, but it's not recommended for aluminum boats as it can cause them to change color and even corrode them.
Bleach is great for removing mold and mildew on fiberglass boats and vinyl.