If you've ever taken a trip on a boat for an extended period of time, you know the pain of not having any internet access. In today's world, the internet is almost a necessity, especially for those who plan on living on their boat or traveling the world.
The simplest and cheapest way to connect to wifi on your boat is to connect to a cellular hotspot or land-based wifi. There are many businesses near the water offering free wifi, and most cell phone plans have a hotspot option included.
Along with those two options, there is also satellite internet. Continue reading to find out more.
Cellular – One of the easiest ways to get wifi on your boat is to just use your phone. Most phones allow for hotspots, and especially phones with 5g plans will provide fast enough internet speeds to do almost anything you need to without buffering. If you're traveling, you can always purchase local sim cards to provide data temporarily while you're there or go with a global provider such as Google Fi.
Marina/land wifi – If you don't plan on leaving your marina often, or when you go on trips you go to marinas, they will most likely have wifi to use there. Restaurants, hotels, and parks may also have wifi available. You could also use a wifi extender to boost any wifi connections you get from land to work in your boat.
Satellite internet – Satellite internet will probably be the most expensive and complicated of the three. However, it is by far the best for people who need an internet connection everywhere they go (even in the middle of an ocean). There are some affordable options that offer basic things such as text, call, and email that I talk about later in the article.
Cellular Wifi
Cellular wifi is probably going to be the best option for most people. Not only is it relatively affordable, but it's also very easy to set up and can be used almost anywhere you go as long as you stay about 15 miles from shore.
Not only will you get great wifi for your phone, but you could also use your phone as a hot spot for all of your devices. Or you could purchase a separate wifi hotspot device from your cellular provider if you don't want to use your phone as one.
Note that 5g plans will be significantly better than 4g, and especially if you plan on using data 5+ miles of shore, 4g may not be strong enough to provide what you need,
If you plan on traveling to different countries, getting sim cards in each of those countries is going to be very expensive. So you could instead op for Google Fi's Unlimited Plus or Flexible plan that gives you data in almost every country in the world for very cheap (the most expensive plan is $60 per month). Learn more about this by clicking here.
If you don't plan on traveling much, your cell coverage should work fine for anywhere you plan to go as long as you're close to shore and in a country your provider services.
Marina/land Wifi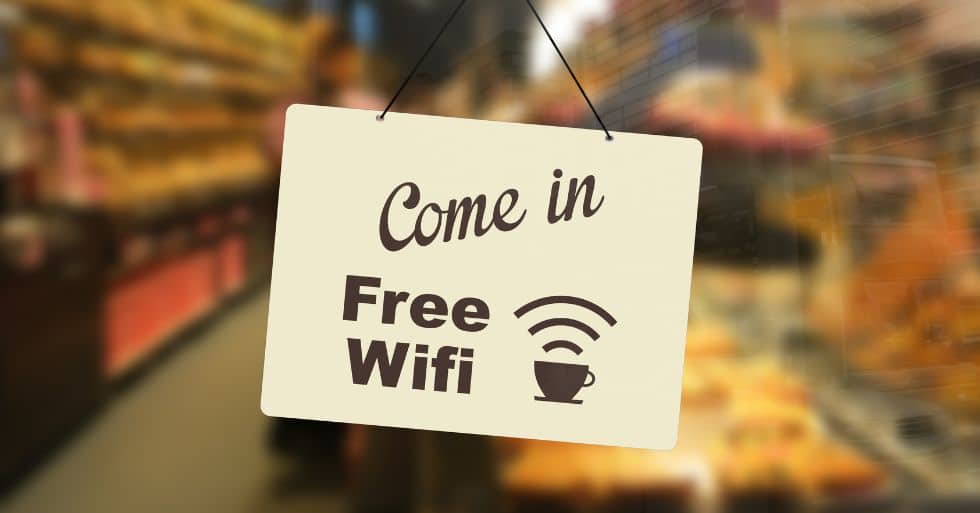 Nowadays, basically every marina you go to will have wifi available for use that is generally pretty good. For years I have been using my marina wifi to stream Netflix and watch live internet TV, and it rarely buffers. However, if you plan on using a restaurant or another type of land wifi, it will most likely be very slow.
Not only do marinas generally have faster internet, but they also use range extenders to make sure every boat in the marina is connected. Most other wifi signals you may get from land will probably not have good range. Along with that, wifi from restaurants and parks is usually quite slow to begin with.
Here's a trick to get good wifi even if you're not located in a marina:
First, you need to find and connect to a wifi that's fast enough to do whatever you have to do. For simple emails, this may only be 1-2 Mbps, but for video calls and streaming, it may be 3-7 Mbps. You can check the speeds by going to the restaurant, marina, or wherever the source of the wifi is and loading up a wifi speed tester.
Then purchase a range extender such as this one on Amazon. You can then connect to the wifi from far away and extend its range into your boat. Generally, this will work well up to about a half mile. So just anchor your boat as close as you can to the source of the wifi, connect the extender, and you're good to go.
Satellite Wifi
When it comes to good satellite wifi, it's going to be expensive no matter what you choose. For example, Starlink's maritime internet plan costs $10,000 to install and $5,000 per month after that. This is why many boaters will just get a satellite phone to use in case of emergencies instead of getting an internet plan.
There are some more affordable plans, such as Iridium Go that can cost as low as $60 per month or $720 per year depending on what plan you go for. Iridium Go works great for calling texting and emailing, but don't expect to be able to browse the web efficiently with it. Some users say that it can take up to 10 minutes to load a single web page.
Besides calling and texting, most Satellite plans such as iridium Go and Garmin inReach are best used for mapping and checking the weather. Most of them also provide an SOS feature that can be used in case of an emergency out at sea.
Hopefully as technology advances in the future, good satellite internet will become much more widely available for more affordable prices. But in the meantime, the best option for most people is to just use their phones or wifi they reach on land.
Recommended plans
How much does it cost to put Wi-Fi on a boat?
As explained above, there are many different unique ways to get wifi on your boat. The most popular one is using your phone as a hotspot and tethering it to all of your devices on board. This only costs how much your cell service cost is. So about $30-$70 per month.
You could also get wifi for free if you connect to land wifi and use a range extender to make it fast enough to use in your boat.
However, if you need wifi that works for browsing and streaming no matter where you go, even in the middle of the sea, it's going to cost $3,000-$6,000 per month. One of the most popular options is Starlink Maritime, which costs $10,000 to install and $5,000 per month after that.
So most people opt for a cheaper option if they need wifi out at sea, such as Iridium Go, which only costs around $60 per month. However, with these affordable satellite internet options, they are mostly used for just looking at the weather, sending some light emails, and a few phone calls and texts. The web browsing experience is basically nonexistent.
Can you get satellite TV on a boat?
If you don't feel like purchasing internet at upwards of $5,000 per month, the next best thing may be satellite TV. You can get satellite TV plans from DirecTV and Dish for as low as $60 per month. If you have a US plan, it would work anywhere around the US, but if you plan on traveling to different countries or continents, you may be limited to only a few international channels.
If you plan on traveling far, make sure to get a satellite that has an LNB and can work across multiple regions. You can read more about this by checking out this article here.