The plow anchor is one of the most popular anchor types for boats 21 ft to 50ft; however, the most modern model (Rocna) can accommodate boats up to 90 ft. The original plow anchor is called the CQR (Coastal Quick Release) and was invented in 1933.
The CQR anchor dominated the anchor market until the delta anchor was invented in 1992 which was an upgraded version of the CQR. And after that, the delta was upgraded, and the Rocna and Vulcan were invented (both a type of scoop anchor).
In this article, I will help you determine which one of these anchors is the best for you and guide you in purchasing it.
What is the difference between these plow/scoop anchors?
The CQR and Delta are both different plow-style anchors, while the Rocna and Vulcan have more of a scoop style. Here's what they look like:
Rocna Anchor
Regarded by most as an upgrade to the delta anchor. Rocna anchors have the best holding power in sand and gravel, while also being able to set very quickly.
Delta Anchor
Delta anchors are known as the upgrade to the original CQR anchor. They have more holding power in more types of seabeds but do struggle to set in soft mud.
Vulcan anchor
The Vulcan anchor is another anchor made by Rocna which performs better in more seabeds than the Rocna anchor. It's also a sleeker and better-looking anchor.
CQR Anchor
The CQR struggles in very hard or soft seafloors. Although it's not widely used anymore today, it's still a very capable anchor and can be purchased used for relatively cheap.
As you can see, they all have a similar plow or scoop structure with some slight differences to them. Believe it or not, these slight differences drastically change the holding power of the anchors.
Holding power
Holding power is one of the most important statistics when gauging how good an anchor is. Below I've listed all of these anchors from the highest holding power to weight ratio to the lowest.
1. Vulcan anchor
According to Rocna, the Vulcan anchor has a similar holding power to the original Rocna while also eliminating the roll bar. This gives it a sleeker design making it easier to fit on the bow of your boat.
They have not been certified as an SHHP or HHP anchor yet, but there have been many different independent tests that have shown how powerful this anchor is.
2. Rocna Anchor
The Rocna anchor is certified as a SHHP (super high holding power) anchor from Rina meaning it can hold 4 times that of a standard stockless anchor of the same mass.
Not only that, but Rocna anchors exhibited the highest holding power of any anchor that the classification society RINA had ever certified.
Although the Rocna anchor appears to have all the accolades to be the number one in this spot, independent tests have proven that this anchor often fouls in heavy mud bottoms. The Vulcan can foul too, but not as often as this anchor.
3. Delta Anchor
The delta anchor is classified as an HHP (high-holding power anchor) meaning it can hold 2 times that of a standard stockless anchor of the same mass.
One thing to note is that delta anchors struggle to hold in very soft mud, especially in comparison to the Rocna and Vulcan anchors.
4. CQR Anchor
The CQR (Coastal Quick Release) anchor has great holding power when it can properly set, but it can struggle to set in many sea bottoms. The holding power in hard ground, soft mud, weeds, or grass will be significantly less than any other anchor on this list.
Seabeds they can set in
Plow and scoop anchors are notorious for struggling to set in soft mud or hard bottoms. Fortunately, the newer generation of anchors are much better at setting in these bottoms.
| Anchor Type | Can easily set in | Struggle to set in | Rarely set in |
| --- | --- | --- | --- |
| Rocna | Sand, gravel, clay | Rocky, weedy, heavy mud | NA |
| Vulcan | Sand, mud, clay, gravel | Rocky, weedy | NA |
| Delta | Sand, clay | Soft mud, weedy, rocky | NA |
| CQR | Sand, clay | Soft mud | Rocky, weedy |
Data from kb.rocna.com and other sources.
Not only do the new generation Rocna and Vulcan anchors have higher holding power, but they can also be set easier in more seafloor types.
Setting speed
Setting speed can be different depending on the type of seafloor; however, after viewing many different independent tests, here is the fastest to slowest setting speed from these anchors:
Rocna anchor
Vulcan anchor
CQR anchor
Delta anchor
Rocna and Vulcan anchors actually set so fast that it is recommended not to hold the line and keep your boat drifting very slowly in order to set it. Sometimes it can set so fast causing your line or other anchor equipment to break if your boat is drifting too fast.
Regarding CQR vs Delta, CQR generally sets faster in easy-to-set seabeds; however, delta usually wins in slightly harder-to-set seabeds such as soft mud, hard sand, or especially rocky.
Bow roller compatibility and stowage
Regarding which anchors are best for storing, generally the smaller they are, the better. They also need to be designed in a way that is compatible with bow rollers. So below are the best compatible, and easy-to-store anchors ranked.
Vulcan anchor
CQR anchor
Rocna anchor
Delta anchor
According to Rocna, they say that their anchor offers marginally better tip clearance than the delta anchor, and more importantly, the shank kick-back (crank) missing from the Delta is present to keep the anchor vertically secure when pulled in.
Design and look
When it comes to design and look, most of these anchors come in galvanized steel and a stainless steel version. Stainless steel looks much better as you can see in the images below: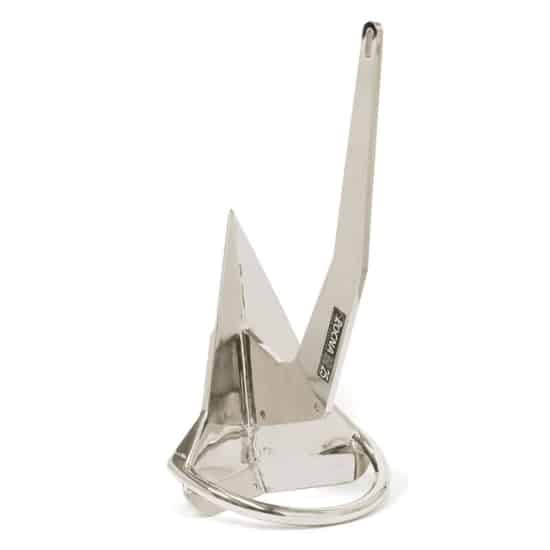 Although this segment is more about personal preference, I believe that the Vulcan anchor is the best looking, followed by the Delta, then Rocna, and CQR at last.
Galvanized steel vs. stainless steel
Besides just looks, stainless steel is also much more corrosive resistant than galvanized steel. This is very important in marine environments, especially in saltwater. Along with that, stainless steel also is stronger and less likely to be damaged.
However, these differences are quite minimal with modern galvanized steel anchors, so the decision mostly depends on looks. Which stainless steel looks much better in my opinion.
Checking on the prices, a stainless steel 22 lb Rocna costs $1,649.99 at the time I am writing this. Meanwhile, the galvanized steel version at the same weight (22 lbs) costs $349.99. So for most, galvanized steel will be the best option because of the significantly cheaper price.
Which should you buy?
In my opinion, the best anchor of these 4 is the Vulcan anchor. Its small and sleek design not only looks great, but it also performs the best overall. The Rocna may beat it in sand and gravel seabeds, but when it comes to soft mud, the Vulcan knocks the Rocna out of the park.
However, if you want to save some money and you don't plan on anchoring in much soft mud or rocky seafloor types, the delta anchor may be the best option for you.
Best performer in sand and gravel: Rocna anchor
Related articles: Types of Anchors And How They Work | 7 Best Fluke Anchors (Ultimate Review)