How much money can you actually make using companies like GetMyBoat to find customers?
The past two years saw record boat sales for first-time boat buyers. While everyone knows that boats are expensive to own, the full scope of the cost is often not realized until you're at the marina — insurance, boat storage, fuel, and maintenance are all costs that can add up quickly! Especially as inflation is taking a toll and fuel prices are rising. 
Fortunately, there's a solution to these mounting expenses for boat owners: companies you can use to rent out your boat when you're not using it, so you can earn money to help cover the costs of ownership or even turn a profit. Boat rental platforms like GetMyBoat can help boat owners turn their expensive hobby into an income-producing asset. 
Not sure how to rent out your boat? Read on for more information to help you decide if that's the right path for you and to get an idea of how much money you could actually earn by renting out your boat.  
Considerations Before Renting Out Your Boat 
Bareboat or Captained?
"Bareboat" rentals imply that a captain is not included in the price, but rather the renter will be driving it. Many people have their boater education and safety certificates and are qualified to drive a boat. As the owner, you can ask for a renter's boat operation history and skill level to ensure that they are properly equipped and experienced enough to handle your boat before they rent. 
If you want to be the one driving the boat when renters are onboard, you'll need a US Coast Guard license according to the size of your vessel. In the United States, for charters on uninspected vessels carrying 6 or fewer paying passengers, you'll need a OUPV "6-Pack" license. For charters on boats over 100 tons and for larger groups, you'll need to obtain a Master license. You can find more information on the checklist of requirements for the various charter licenses on the US Coast Guard website. 
Insurance 
Insurance coverage is one of the most important considerations before you list your boat. Not all insurance plans are the same, and not all will cover bareboat rentals. Some rental platforms have the option to purchase insurance for individual rentals, while others will require the owner to provide their own insurance separately. 
GetMyBoat doesn't offer insurance themselves through the platform, but they do have a partnership with Boat Charter Insurance which offers plans to cover unlimited rentals, which can be a huge cost-savings in the long run if you end up renting out your boat frequently. 
Local Laws and Regulations
In addition to complying with all Coast Guard (or equivalent governing body, depending on which country you're operating in) regulations, you'll need to research local laws and regulations on P2P boat rental services. Some municipalities and cities have their own laws and restrictions on rentals and charters, and you'll want to make sure that you are compliant. 
Check on laws regarding boat launch sites, rental agreements, and other factors that may impact your ability to rent out your boat on a certain body of water. 
How Much Can I Actually Earn? 
Now let's get down to business: how much money can you reasonably expect to earn by renting out your boat on a P2P platform? Earnings will vary depending on many factors, from the type of boat you own to the location you're renting it out in. But for some general context and data, the average annual earnings of a GetMyBoat owner is $25,000, and the top 10% of owners on the platform earn $78,873 on average. 
Location, Location, Location
The potential earnings you could expect from renting out your boat will depend heavily on the location where you're looking to operate. You'll want to evaluate the local demand, the local availability, and going rates for rentals at brick-and-mortar boat clubs and marinas and also consider the seasonality of the demand for boat rentals. 
For example, if you're looking to list your boat rentals in Miami, you can expect a lot more competition but also a lot more demand and smaller seasonal fluctuations. The average owner operating in Miami on GetMyBoat earns $27,000 annually, while the top 10% earn over $200,000. In contrast with a location like Chicago, where boating is limited to the summer months, but the demand is very high, and options are more limited, the average owner on GetMyBoat earns $32,910 annually, with the top 10% earning $171,744 annually. 
How Often Will You Rent Out Your Boat? 
In all likelihood, you originally purchased your boat because you wanted to be the one to enjoy it with family and friends, so renting it out every day of the summer is not going to be a realistic goal. Research shows the average boat owner uses their boat only 8% of the year, but it still costs the owner money the other 92%. That leaves a lot of time for an owner to enjoy their watercraft while also offering it for rentals to others.
It's important that you choose a boat rental platform that gives you full control of your calendar, so you can mark your rentals as unavailable on the days you know you'll want to go on the water.  
Another factor impacting earnings for boat owners using P2P platforms is the service fees charged on the booking transaction and any other fees associated with operating on a platform. Some platforms charge to have an account, while others are completely free. Some offer insurance as an add-on you can purchase, while others will require you have your own insurance, completely separate from the platform.
GetMyBoat, for example, takes the lowest booking fees in the industry, which is an 8.5% fee charged to US operators and an 11.5% fee on international transactions, the extra 3% charge being used to cover currency conversion fees.  
Here's an example scenario of earnings you could expect with renting out your boat part-time. 
GetMyBoat rentals without a captain in the U.S are (on average) $600 per day (8-hour rental) for a modest powerboat (like a Sea Ray 230) in a popular location. If you choose to rent your boat as an investment for 20 days only, This is going to give you a return of $12,000, which would easily cover the annual expenses of being a boat owner plus give you a nice profit to enjoy, and that's just with 20 days of rentals! 
There are many ways you can approach using the P2P boat rental model to earn money with your watercraft. You can do the bare minimum number of rentals just to cover your annual boat owner expenses, or you can do as many as possible to turn your boat into a profitable side hustle. In addition to making money, it can be a wonderful way to meet other boating enthusiasts in your community and help others make special memories with their loved ones on the water.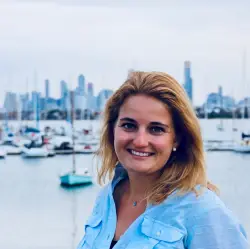 Latest posts by Val Streif
(see all)