Situated in the southern part of the United States near the Gulf Coast, Alabama is a beautiful place with amazing scenic lakes that are great for a quick getaway from the hullabaloo of daily life. If you happen to enjoy boating, fishing, or taking a dip, Alabama is the ideal place to plant a vacation!
1. Guntersville Lake
Located between the cities of Guntersville and Bridgeport in the northern part of the state, This is Alabama's largest lake. Sprawled over 120 km, the shoreline is dotted with numerous accommodations and parks. (P.S. The featured image above is this lake).
Moreover, there is no dearth of recreational activities. There is a boat dock, a designated swimming area, a beach and picnic areas along the shorelines, as well as a public fishing pier. If you wish to catch some bass for lunch, you can rent boat launches to go fishing further. 
Want to seek more adventure around this lake? Venture onto the woodlands surrounding the area, which offers hiking, biking, and bird watching. You can spot lesser scaup, red-breasted mergansers, gadwalls, and even bald eagles! For swimming and sunbathing, try the Mountain Lake recreation area, or bring your own canoe or kayak and paddle along near 900 miles of shoreline.
2. Walter F. George Lake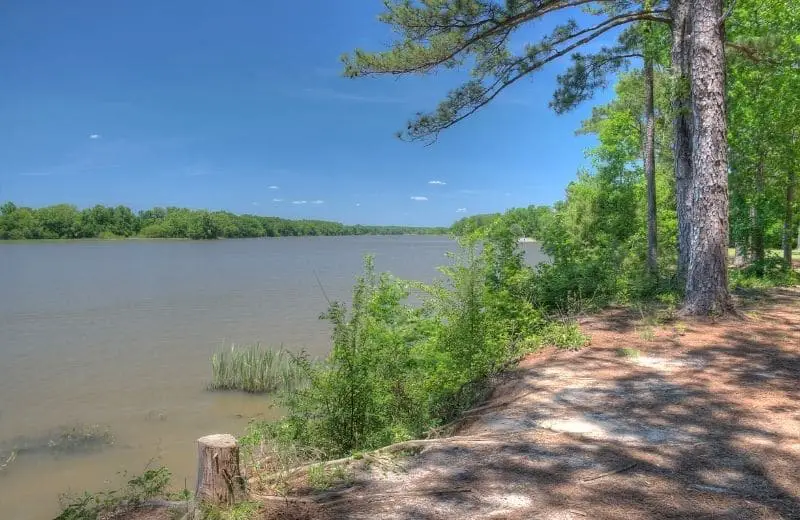 The Walter F. George Lake sits along the Chattahoochee River and is shared with neighboring Georgia. In fact, it is also known as Lake Eufaula as this stunning body of water is close to the cities Eufaula and Georgetown.
The whopping 1030 km shoreline offers fabulous recreational activities, both in and out of the water, such as camping, swimming, boating, fishing, and hiking.  You can head over to the Eufaula National Wildlife Refuge for bird-watching, while the Providence Canyon is great for those looking to hike on remote trails. If you are feeling competitive, feel free to join in on one of the annual fishing tournaments at Lakepoint State Park!
3. Lewis Smith Lake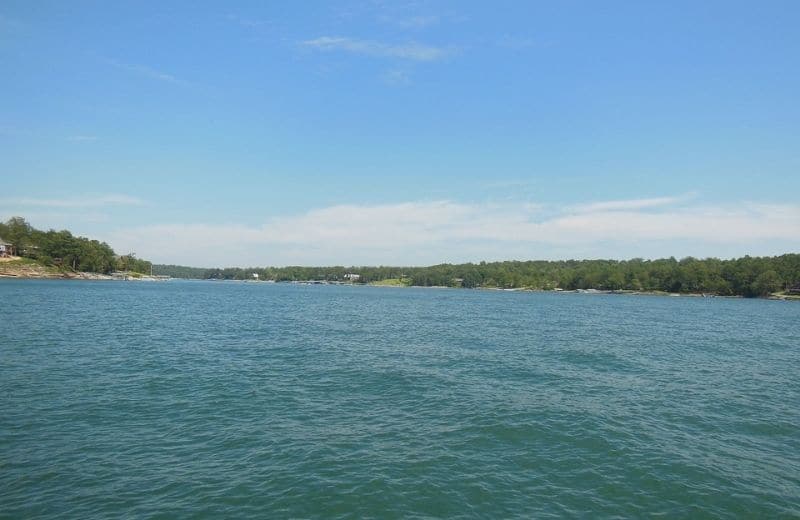 Did you know this is one of Alabama's clearest lakes? Situated along the Black Warrior River, near the towns of Smith Lake and Crane Hill, this is an extremely popular holiday destination. The three-fingered lake offers exciting activities – you can rent paddleboards, fish for largemouth and spotted bass, go for boating, or simply swim and sunbathe at the Sportsman Lake Park. 
For more adventure, head over to the Clarkson Covered Bridge for hiking! The beauty of this lake is enhanced by the many coves it houses. Don't miss out on the 21-meter high Indian head cliff jump!
4. Lake Martin
This lake boasts of over 1,200 kms. of wooded shoreline, and was one of the world's largest man-made body of water when it was built! The picturesque lake south of Alexander City is lovely for swimming, water skiing, boating and fishing.
You can enjoy a relaxing dip from the Chimney Rock and Acapulco Rock, while renting boats and personal watercraft at the Russel Marina or signing up for a kayak tour with the Adventure Center. You can check out the DeSoto Caverns, MuscleCar Museum, and Lake Martin Amphitheater that hosts fantastic concerts, art shows, and cultural events.
If you are interested in basking in the tranquility of nature, there are walking trails surrounding the lake for brisk walks and spotting local birds.
5. Wheeler Lake
Created by Wheeler Dam along the Tennessee River in the northern part of Alabama, it stretches a little short of 100 km. and includes the city of Huntsville and the town of Rogersville. The dam itself is a major tourist attraction, so don't forget to visit and take pictures.
You can either go fishing Joe Wheeler State Park, sign up for a Wheeler Lake scenic cruise, or swim at the Elks River Lodge State Park. The lake is ideal for boating and fishing too!
6. Weiss Lake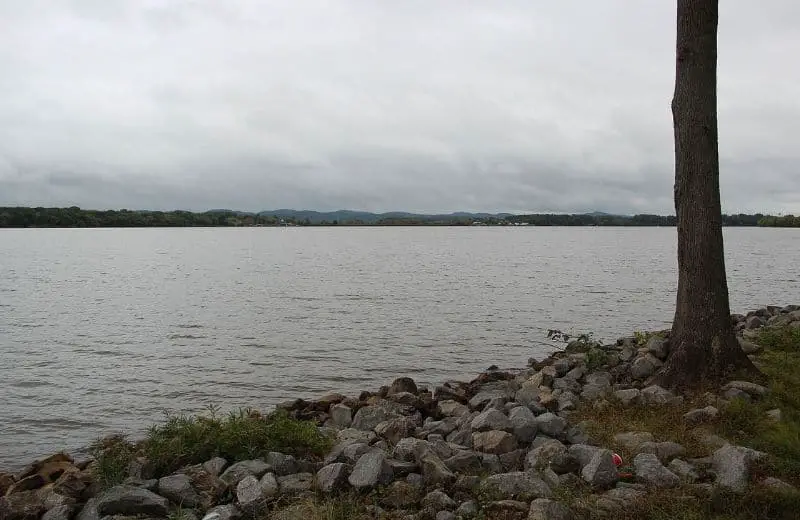 Weiss Lake is shared with the neighboring state of Georgia as well, like the Walter F. George Lake. This lake is formed from water from the Coosa River, Chattooga River, and Little River. The 700 km shoreline comprises privately owned hotels and marinas.
But there are campgrounds if you wish to sleep under the stars. Want to go fishing? Striped bass, largemouth bass, and crappie can be found in the lake – bass season is between February and May, while crappie season is from March until May. You can go hiking or swimming at the Cherokee Rock Village, or rent a boat or pontoon and venture out on your own!
7. Lake Wedowee
This man-made lake sits on the upper portion of the Tallapoosa River, near the town of Wedowee – it is one of Alabama's last hydro sites. It was created by the flooding behind the R.L. Harris Dam. There are ample recreation opportunities here – you can rent a boat at the Wedowee Marine and go fishing for bass, or opt for water skiing. If you wish to go hiking and swimming, visit the Cheaha Resort State Park and Flat Rock Park sits at the west end of the lake, respectively.
8. Lay Lake
Sitting just 35-minutes away from the city of Birmingham, Lay Lake is a reservoir that is used for both hydroelectric generation, as well as recreational purposes. Boating and trophy fishing are the popular pastimes here. There is an abundance of bass and crappie in the lake. 
There are seven public access areas to the lake where boaters can enter the lake, five of which also have docks. You can sign up with the Coosa River Guide Service and the popular fishing hot spot, or rent a boat at the Paradise Point Marina. If you wish to explore on land, visit the Heritage Trail Pioneer Village, Classic Home Consignments, and Dragonflies Antique and Marketplace.
9. Wilson Lake
Wilson Lake is the reservoir created by Wilson Dam and located in the city of Florence. It is yet another spot that draws in throngs of tourists who want to fish for bass during the spring and fall. At the dam, anglers can enjoy the fishing platform that is located where a variety of fish species like to congregate such as catfish, largemouth bass and smallmouth bass.
You can also rent a boat and head out on your own to fish. After a day on the water, visit the Indian Mound and Museum or take the kids to the Children's Museum of the Shoals. Harbors are located along the lake, along with camping facilities on the east side, close to the dam.
10. Neely Henry Lake
This lake is located along the Coosa River, just an hour northeast of Birmingham, and formed by the dam of the same name. It stretches along 540 kms. and offers activities like swimming and fishing for largemouth bass and spotted bass (you can catch your own lunch).
There are numerous places where you can set up a quiet picnic and enjoy the serene environment or spot birds. You can head out onto the waters for a charming boating session as well. If you wish to stay close to nature, there are many cabins available for rent along the shoreline, and in close proximity to the lake.
Now that you know how to enjoy and relax in Alabama, it is time to start planning your holiday ASAP! You will feel refreshed after spending a few days in the peaceful environment the lakes have to offer.