If you're finally ready to take that leap of faith into boat ownership or want to try something new, your first thought is probably what type of boat you should buy.
Owning your own fishing boat will open a whole new world of opportunity and you'll no longer have to fish from land or hope for an invite on someone else's boat.
When choosing the right fishing boat, there's no perfect all-around boat for everybody. Deciding on what fishing boat to buy will be determined by location, what type of water you plan to fish in, budget, and your fishing style/target species.
The right fishing boat can make a huge difference in your safety, enjoyment, and success on the water. For example, a center console won't be of much use to a bass fisherman fishing in a lily pad-filled marsh, just like a Jon boat would be outright dangerous to take several miles offshore.
This article will serve as your guide to choosing the right fishing boat to help you achieve your fishing dreams!
Fishing Boat Types
There are many different fishing boat types made by a bunch of different boat manufacturers. The boat types below are the most common types you're likely to encounter on your buying journey.
With a few considerations, one of these types of fishing boats will be right for you, it just depends on what your needs and limitations are.
Bass Boat
Great for: Medium-large bodies of freshwater
Not so great for: Saltwater, large bodies of water in rough conditions
Cost: High (new), medium (used)
Fishing type(s): Bass fishing, general freshwater fishing
Top brands: Ranger, Nitro, Skeeter
Bass boats are extremely popular, as is the sport of bass fishing, so it's no coincidence bass boats are very common.
What is commonly referred to as bass boats are small fishing boats typically not exceeding 21-22 feet. With a shallow V hull designed for shallow fresh water and able to equip any number of accessories, bass boats are one of the most commonly owned boat in the U.S. Bass boats can be used for any species/style of freshwater fishing, so they're not limited to just bass fishing.
While bass boats can handle larger lakes and rivers, they're not well suited to handle severe conditions or saltwater. Bass boats can handle outboard motors up to 250 HP or more, so you'll be able to get to your spots in no time in the right conditions.
With new bass boats coming at fairly high costs, used boats can be had for less money with a little TLC, so bass boats can accommodate most budgets.
Deep V Fishing Boat
Great for: Large freshwater lakes and rivers
Not so great for: Shallow water, backwaters
Cost: High (new),medium (used)
Fishing type(s): Walleye fishing, general freshwater fishing, trolling
Top brands: Crestliner, Lund
Deep V fishing boats as the name implies, are boats designed with a deep V hull. They excel at cutting through rough water and can accommodate high horsepower outboards and many accessories.
Popular in the Great Lakes and surrounding inland lakes for walleye and bass fishing, deep V's also work well in large rivers with a lot of wake from boat and barge traffic. They can be used for just about any fishing style or target species but won't work the best for fishing in shallow water.
Trolling applications for walleye and Great Lakes trout and salmon are especially well suited for deep V fishing boats. Rigged with rod holders, down riggers, and planer boards, deep V fishing boats can accommodate many trolling rods to land some true lunkers.
Deep V boats are made in a range of sizes and prices and usually have more room than bass boats, so they're great for families and fishing guides. More often than not, you should be able to find a deep V fishing boat within your price range, especially if you buy used.
Pontoon Boat
Great for: Most freshwater lakes and rivers, large groups
Not so great for: Shallow water, rough conditions
Cost: Medium-Low
Fishing type(s): General freshwater fishing
Top brands: Bennington, Avalanche
Pontoon boats may not immediately come to mind for this list, but beyond their popular use as pleasure vessels, pontoon boats make great fishing boats.
With a ton of space for rod holders, seats, coolers, and other accessories, you can outfit a pontoon boat to be the perfect family fishing boat.
While pontoon boats can handle most bodies of water, they're not very maneuverable or useful in shallow water. However, as a family fishing boat, it's not as if you'll be taking a pontoon boat into difficult situations.
New pontoon boats with high horsepower motors can be expensive, but if you decide to buy used, they can be quite affordable. If you really want to get a pontoon for cheap, break out your tools and restore a cheap old and worn-out pontoon boat.
Jon Boat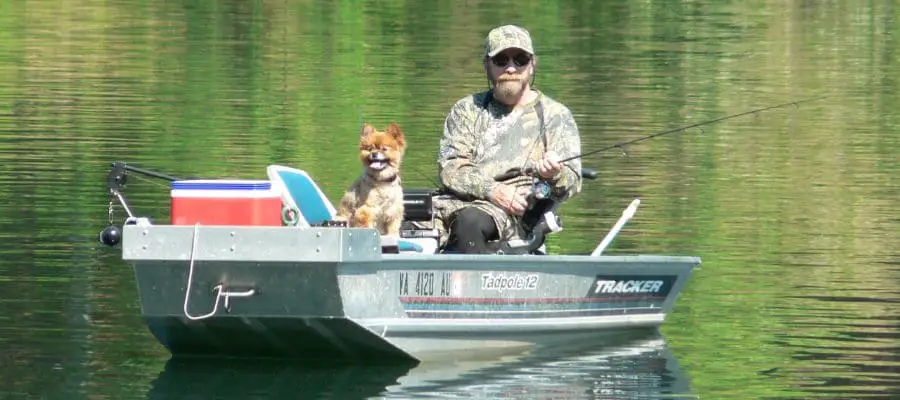 Great for: Shallow water, backwaters, small bodies of water
Not so great for: Large bodies of water, rough conditions
Cost: Low
Fishing type(s): General freshwater fishing, inshore saltwater
Top brands: Lowe, Crestliner, SeaArk
Jon boats are small aluminum boats that typically don't exceed 18-20 feet in length. Jon boats are popular for their low cost and versatile uses.
The hull types you'll find for Jon boats are flat hull, semi-V (modified v) hull, or V hull. All hull types work well in small bodies of water or in larger bodies of water when conditions are very calm. The major downsides for Jon boats are they cannot handle big water, accommodate high horsepower engines, and can't carry more than 2-3 passengers safely.
Unlike many other types of boats, Jon boats can operate in very shallow backwaters such as bayous, swamps, and marshes, especially if equipped with a longtail or mud motor. Sometimes being able to go where no one else can go will get you to the best fishing spots that nobody knows about!
Jon boats can be acquired very cheaply and customized in many ways. Regardless of your fishing style, you can customize a Jon boat into the perfect fish-catching machine.
I've owned a modified V Jon boat for quite a few years, and I love it. I can customize and make it my own, and I can spend as little or as much time and money as I want to equip it with accessories. I've operated my Jon boat in everything from tiny farm ponds to huge lakes in northern Michigan. You just have to be mindful of the weather, know your limitations, and stay alert.
Drift Boat
Great for: Small lakes and rivers
Not so great for: Large bodies of water, rough conditions
Cost: High
Fishing type(s): Fly fishing, river fishing
Top brands: RO Drift Boats, Boulder Boat Works
Drift boats are specialized boats primarily used for fly fishing in small rivers, mostly for trout and bass. Drift boats are propelled by a pair of oars, and either an electric or traditional outboard motor.
Designed to run in just a few inches of water, the hulls of drift boats are completely flat. The bow and stern ends have a slight curve upwards much like a canoe. Due to their design, drift boats are not suited for large bodies of water unless there are perfect conditions with little to no wake or chop.
Drift boats are ideal for anglers who want to fish in small lakes and rivers where most boats cannot venture. With more deck space than a canoe or kayak that you would otherwise have to use for skinny water, you can fish comfortably and carry 1-2 additional passengers.
Since drift boats are specialized and somewhat unique, they're more expensive than some other types of fishing boats. Inflatable drift boats can be purchased for less money but with limited storage space.
Center Console
Great for: Large bodies of water, offshore
Not so great for: Inshore, shallow water
Cost: High
Fishing type(s): Offshore saltwater fishing
Top Brands: Boston Whaler, Grady White
Center console fishing boats are larger fishing boats designed for offshore saltwater fishing. Designed with deep hulls, high gunwales, and able to accommodate high horsepower and multiple outboard engines, center console fishing boats can handle just about any body of water or conditions.
Center console fishing boats are best suited for anglers fishing up to and in excess of 100 miles offshore targeting mahi-mahi, tuna, sailfish, grouper, and so much more. With room for multiple passengers and accessories like technology, storage compartments, live wells, and ice chests, center consoles can sustain extended fishing trips.
The only major downside for center console fishing boats is their high cost. Compared to the fishing boat types on this list, center console boats are by far the most expensive to buy. This doesn't even include the high fuel and storage costs you'll have to pay as well.
Skiff
Great for: Inshore saltwater, flats
Not so great for: Offshore
Cost: High (new), medium (used)
Fishing type(s): Flats fishing, inshore saltwater, fly fishing
Top Brands: Dolphin Boats, Salt Boat Works
Skiffs are small shallow water boats commonly used for inshore and flats saltwater fishing. With a shallow hull, adjustable hydraulic motor trim, and trim tabs, skiffs can run in mere inches of water. Skiffs are widely popular for saltwater fly anglers and flats fisherman.
If you live in an area like South Florida, a skiff can be the perfect boat for some excellent fishing without the high cost of a larger offshore boat.
Skiffs excel for species such as redfish, permit, and bonefish, among many others. Skiffs can also be used near shore in calm conditions for reef fishing but cannot handle large waves safely.
Used skiffs can be purchased for reasonable prices, but new or custom skiffs can be quite pricey. How much a skiff will cost is also determined by the number of accessories, or "bells and whistles" it has or can accommodate.
Cuddy Cabin
Great for: Large bodies of water, offshore
Not so great for: Shallow water, inshore
Cost: High
Fishing type(s): Offshore saltwater fishing, Great Lakes fishing
Top brands: Grady White, Boston Whaler
Cuddy cabin fishing boats are larger-sized recreational fishing boats with an enclosed bow area to provide shelter and even sleeping space. Cuddy cabins are perfect for families and fishing guides in coastal areas and the Great Lakes.
With plenty of space and the ability to handle big water, Cuddy cabin boats are best suited for offshore saltwater or Great Lakes trolling. Their enclosed bow area is perfect for ensuring everybody stays comfortable on extended fishing trips. Overnight trips are even possible with some cuddy cabins that are equipped with sleeping quarters.
Cuddy cabin boats are common, but because of their larger size, they come at a higher cost and will require bigger storage areas, which will also increase costs. Cuddy cabins come in many variations, so you can be sure to find a cuddy cabin that is to your liking.
Bay Boat
Great for: Bays, inshore
Not so great for: Offshore in rough conditions
Cost: High (new), Medium (used)
Fishing type(s): Inshore saltwater, near-shore saltwater
Top brands: Boston Whaler, Grady White
Somewhat in between a center console and a skiff, bay boats are great fishing boats for inshore and near shore areas in coastal waters.
Similar in design to center console fishing boats, bay boats are designed with more shallow hulls and lower gunwales. This makes bay boats easy to fish from and able to handle light chop comfortably.
As their namesake implies, bay boats are designed for fishing in bays and inshore areas for redfish, sea bass, sharks, and more. Bay boats can handle relatively adverse conditions, but it's not advised to operate a bay boat far offshore or in rough conditions.
As far as costs go for bay boats, used boats can be acquired for reasonable prices, but for brand new bay boats you'll pay a premium.
Conclusion
Deciding on a fishing boat is no simple task. There's not a one size fits all boat for every angler, so you'll have to weigh your options to determine the fishing boat that's right for you.
Things like budget, fishing style, and location are the key factors in deciding your next boat purchase. If it's your first boat purchase, these considerations are even more important to have a positive first experience with boat ownership.
I hope this guide is helpful in your boat buying process. Have fun on the water, keep those lines tight, and most importantly, be safe!