Looking for a boat that you will enjoy over the years? Consider a center console boat. Over the years, center console design has dominated all boat segments and moved beyond its primary purpose of fishing to a more versatile boat for performance and luxury cruisers of all sizes. 
A center console's versatility, functionality, simplicity, and ability to accommodate many people on board makes it stand out. Having a center console boat implies having unforgettable moments on the water fishing, tubing, or cruising with its spacious walkaround layout. It is known as one of the best all-around boats for the family.
As the name implies, center console boats have their consoles at the center with a mounted steering station and a leaning post or seat behind it for the driver. Within the center console boat family, there are many different designs for different water bodies, conditions, and uses.
Ready to know more about center console boats? Let's look at the details about the brand, sizes, water bodies they are designed for, and unique features you should look out for in a center console boat. 
What features should I look for in a center console boat?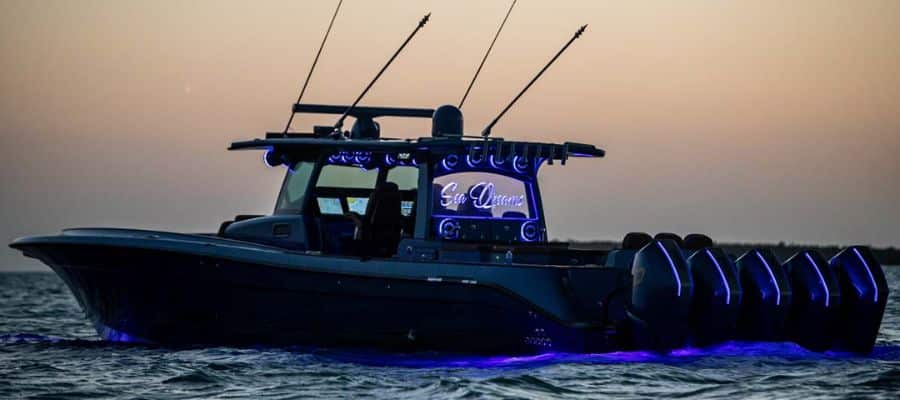 These features are what make center console boats unique from other kinds of boats:
Walkaround Layout
Center console boats are roomy, and the design provides ample walkability. It usually has two to three seating areas with a roomy cockpit that can accommodate two drivers making driving a boat more interactive. Additionally, the roomy layout provides everyone on board space to spread out and relax. 
Flexible stern space
Most consoles have a foldable stern bench allowing the space to be switched easily from a fishing space to comfortable seating or laying down area.
Outboard engines
Unlike other boat types such as cuddy cabins and wake boats, center consoles almost always have outboard engines. Not only does this make them look amazing but it also helps maximize the space at the stern of the boat. This way you can easily stand at the back to reel and net fish without a big engine compartment getting in your way.
Handling 
The layout of center console boats places the driver at the center. This improves maneuverability, visibility, performance, social interaction, and overall safety, making handling easier. Center console boats may not be able to turn as sharply as ski boats, they perform much better in rough water.
Functionality 
Center console boats are designed with fishing amenities that allow for an all-around fishing experience including rod lockers, livewells, rod holders, and downriggers. Center consoles are also great for cruising, tubing, or water skiing. This makes them one of the best all-around boat types on the market.
Fun features and comfort
Center console boats are accommodative. Whether for fishing or cruising, the additional comfort and amenities make you enjoy your day on the water. Center consoles will keep boaters entertained and happy on the water, as they are generally fitted with sound speakers, a swim platform mat, a Bluetooth radio system, and an enclosed toilet under the console.
How much do center console boats cost?
Based on data collected from thousands of boats selling on boats.com, they concluded that the average price of a center console boat is $83,556 with boats ranging from as little as $10,911 to $1,198,519.
Generally, well-known center console brands such as Boston Whaler and Grady White are going to cost 1.5 to 2 times more expensive than similarly specced boats from less known brands. So if are looking to save money, look for brands such as scout and Yamaha. These are affordable boats yet have great quality.
Facebook marketplace and Craigslist are also great places to go to find good deals on center console boats. Dealers mark up prices so finding a private seller could save you a lot of money.
What are center console boats not ideal for?
Center console boats can be very expensive and may cost a lot of money in fuel if you have multiple outboards. Although they are better than most other kinds of fishing boats in rough water, they still get tossed around by waves quite easily unless you have some kind of stabilizer or foil.
Along with that, they do not have the best maneuverability so tubing may be a little bit difficult. Wakesurfing is too dangerous due to the outboard engines, and wakeboarding would be difficult as they don't put up that nice of a wake.
Most center console boats also cannot go into very shallow water like bass boats can.
Only very large center consoles will be able to handle travelers as most do not have cabins and the ones that do are generally quite cramped.
What type of person are center console boats most meant for?
If you love fishing for any type of species (bass, walleye, grouper, snapper, salmon, etc.) on large bodies of water that experience some chop, center consoles will be great for you. You can easily cast off the sides or troll off the back. The open layout allows you to easily move around while reeling in fish and makes netting them that much easier.
If you're not a fisherman, center consoles could still be the perfect choice for you as they are an amazing boat for relaxing. They will handle waves much better than a ski or bass boat will and they have plenty of seats and beds to relax on when you get to the beach or wherever you go.
Top brands of center console boats
There are a few different styles of center console boats designed for different water bodies, conditions, and uses. Here's a rundown of some of them and why they might fit your boating needs.
1. Boston whaler
This is one of the top center console brands known as the unsinkable legend. Boston Whaler currently makes boats ranging from the small 13- foot 130 super sport to the massive 420 outrage. Boston Whaler offers varied options for all budgets and is suitable for small or large water bodies.  
The new to-do giant 420 outrage takes offshore fishing and family expeditions to a new level. The 420 takes cruising as seriously as fishing, with V-berths for 7, an extendable aft shade, a removable bow table, and A/C in the cabin and at the helm.
2. Grady white
For over 60 years, Grady-white has built high-quality center consoles with numerous features, including a foldable cockpit that makes boating activity easy. The latest Grady-White Canyon 366 incorporates a large cockpit with fishing features with luxury seatings for boaters and their families.
3. Pursuits boat
Pursuit manufactures different designs of center console boats likely to meet your needs. Pursuit offers seven different options for their sports boats. This brand ranges from about 23 to 42'10" foot long, with pursuit S408 being the leading design in this category with a built-in hardtop, well-appointed cabin, and multiple seatings around the cockpit. Click here for more details, 
Other popular brands
Regulator boats
Scout
SeaVee
Sea Hunt Gamefish
Southport
Stamas 
Wellcraft
Yellowfin 
World cat
Robalo
Jupiter boats
Everglades
Invincible boats 
HCB yachts
Edge waters
Contender
Yamaha
Are center console boats safe on the ocean?
The short answer is yes. Center console boat's layout and deep hulls greatly enhance boat handling, resulting in a smooth ride on large water bodies. The boat's design allows easier access to the bow, stern, and sides, making it one of the best boat options for offshore boating and fishing.
Taking it out on the ocean is a chance to relax and enjoy a little saltwater fishing, but it's also the opportunity to check out the high-performance functions that your center console boat offers. 
There are also many large center console models available that are meant to handle large ocean waves.
What can you and your family do with a center console boat?
When most people hear of center console boats, think of fishing, however they offer way more than just fishing amenities. Besides being an ideal boat for fishing, tubing, water skiing, and other sports could eventually fill your day with fun. These boats are known for their versatility in being used on small and large water bodies. Purchasing a center console boat implies exploring all the ideal games on the water.
What kind of vehicle do you need to tow a center console boat?
Most center console boats will need a pickup truck with a towing capacity of at least 5,000 pounds, preferably much more. Center consoles that are 17-20 feet long could weigh up to around 3,500 pounds. 20-25 footers could weigh up to 5,000 pounds. 25-30 footers could weigh up to 10,000 pounds.
Most center console boats larger than 30 feet aren't recommended to be towed because of how much they weigh and how large they are.