The Mississippi River is the second largest river in North America at 2,340 mi long (source). Flowing through 10 different states, it's one of the most fun and adventurous boating routes to travel in the US.
However, before you take your vessel out there, it's important to know if you can even travel through the entire river. The answer to that is this:
Yes, you can boat through the entire Mississippi River; However, if you plan on going any more north than Minneapolis, MN you will be stopped by the Upper Saint Anthony Falls Lock and Dam. You will need to relaunch your boat north of the lock if you want to continue.
Anywhere south of the Upper Saint Anthony Falls Lock and Dam in Minneapolis can be navigated by boat all the way to New Orleans, LA, and out into The Gulf Of Mexico. However, many pleasure boaters take another route through the Ohio River, Cumberland River, Tenessee River, and then the Tennessee-Tombigbee River which gets you to Mobile, AL and out to the Gulf.
This route has much less commercial traffic and strong currents, making it much easier to navigate, especially for sailboaters. If you want to read more about this, search "The Great Loop" or click on this article here.
If you're wondering if you can get from the Great Lakes to the Mississippi river, scroll way down or click here.
How long does it take to boat through the Mississippi River?
Depending on how fast you go and frequent you travel, It's going to take about 2-4 weeks to boat through the whole Mississippi River. However, many boaters who take this route stop at marinas for days at a time because of bad weather or boredom.
From Minneapolis, MN to New Orleans, LA, it's about 1,800 miles. So for example, if I were to cruise at 15 mph for 7 hours per day, it would take me a little over 17 days to reach New Orleans from Minneapolis.
You can calculate this yourself by taking your speed (mine was 15mph) and multiplying it by your hours per day. Then take 1,800 miles (or however many miles it will take you from your starting point) and divide it by the number you got from above.
Is boating the Mississippi River dangerous?
Boating the Mississippi River can be dangerous due to strong currents, low water visibility (could hit rocks or the river floor), floating debris, and large barge wake. High water usually means faster current, and low water means you're more susceptible to hitting a rock or the river floor.
To avoid these dangers, always check the water height (this could change overnight, especially if a storm comes through), always be on the lookout for floating debris, and use your navigation system to avoid shallow spots.
If you need to, you can get the Navionics app for your phone for navigation.
Some additional safety tips to consider are:
Only anchor up in protected areas with little current as barge wake and current can dislodge your anchor
Never travel in a thunderstorm
There are more barges in the southern part of the Mississippi River
River depths can change overnight
Constantly watch weather forecasts as they can change quickly, especially in the southern part of the river
Are there marinas and gas stops on the Mississippi River?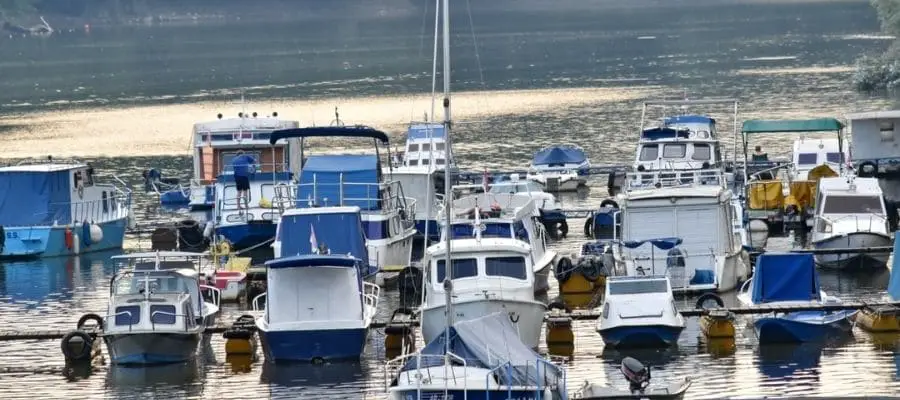 Yes, there are many fuel stations and marinas to dock your boat on the Mississippi River. However, the farthest stretch you will run into without a fuel station is between Kimmswick, MO, and Paducah, KY which is 200 miles. Paducah is slightly off course on the Ohio River.
(source)
Many boats that cannot make the distance carry extra fuel tanks or bladders such as this one you can get on Amazon to extend their range.
If you plan on getting a transient marina slip to stay the night, call ahead and see if there are any available. Transient slips on the river are usually around $25-$55 per night. There are many of them along the river.
Best marinas to stop at on the Mississippi River
Not all marinas are luxurious on the Mississippi River like they are in places like Florida and California. Some are a bit, let's say, sketchy. But here are a few that I know are great:
Grafton Harbor (Grafton, Illinois)
Sunset Marina (Rock Island, Illinois)
Memphis Yacht Club (Memphis, Tennessee)
Things to know before traveling the Mississippi River
There are many things you should know before your Mississippi River adventure before you go, some of which are quite strange. So here is a list of the things you will need to know:
Make sure your boat is following USCG guidelines.
Always anchor in areas protected from current and barge waves
River depth can change overnight
There are lots of floating trees and other debris to watch out for
Don't tie your boat to a tree (many ants will be on your boat the next morning)
Lots of great BBQ spots, especially in St. Louis and Memphis
Most people you will meet are incredibly nice and willing to help if you get in a sticky situation
There are lots of sandbars to have fun at
Can you boat from Lake Michigan to the Mississippi River?
Yes, you can boat from Lake Michigan to the Mississippi River and eventually out to the Gulf of Mexico. This is done by going through the Chicago Sanitary and Ship Canal and the Illinois river until you reach the Mississippi River just north of St. Louis, MO.
There are a few different entrances to get to the Chicago Sanitary and Ship Canal, and all of them have at least one lock and a couple of drawbridges. However, The Calumet River, which is 15 miles south of downtown Chicago has significantly less than the other options.
Below is a map of all the waterways connecting to the Chicago Sanitary and Ship Canal (thus connecting you to the Mississippi River eventually). The red arrows point to the downtown Chicago connections, which have a lot of drawbridges and a fixed bridge with a maximum crossing height of 17′. The green arrow points to the most efficient entrance.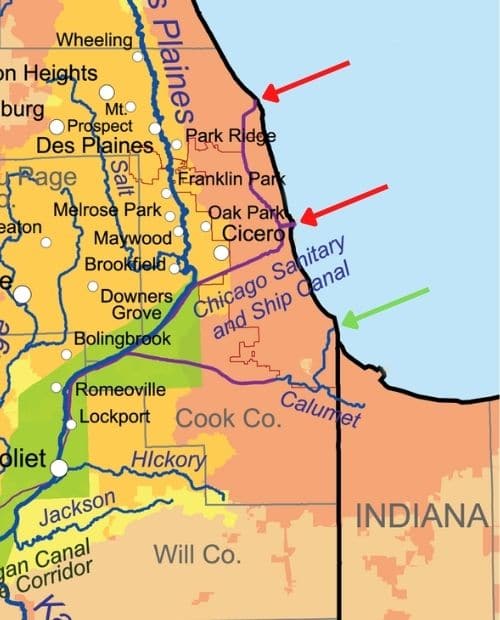 Vessel hight restrictions
The shortest fixed bridge you will run into on your whole journey from Lake Michigan down the entire Mississippi river is at the Chicago Sanitary and Ship Canal. It has a maximum vessel height of 19.6′. So any vessels taller than that must demast before crossing.
(source)
If you plan on going through downtown Chicago, there is also a 17′ bridge you will need to pass. Although, you can get around this by going through a different riverway.
Vessel length restrictions
There aren't any length restrictions that I know of, but the average boat size is around 36-feet in length for this kind of adventure. Anything over 46-feet will be difficult, mainly because it would be hard to find a marina that would accept your boat.
(source)
Can you boat from Lake Superior to the Mississippi River?
Yes, you can boat from Lake Superior to the Mississippi River. However, you must go through the Soo Locks into Lake Huron first, then through the Straits of Mackinac. After that, you can travel all the way down Lake Michigan until you reach Chicago.
Once you reach Chicago, you can reach the Illinois River, eventually leading you to the Mississippi River. Scroll up to follow the Lake Michigan instructions, which may be applicable to you.