Believe it or not, you can absolutely put a trolling motor on a pontoon boat, and there are many benefits to adding one to your boat.
Let's go over why you might want to add an electric trolling motor to a pontoon boat, what type of motor to get, and how to install one with a few simple tools!
Why Put a Trolling Motor on a Pontoon Boat?
You may wonder why installing a trolling motor on a pontoon boat makes sense at all, but there are many benefits to having one.
The #1 reason to add a trolling motor to your pontoon boat is if you do a lot of fishing. Electric motors emit little to no noise, so you can move and fish without scaring away everything. With a loud outboard motor, that would be next to impossible.
As the name implies, trolling motors are also great for trolling, which is a style of fishing where you slowly drag a bait or lure across a vast area until you get bit. It's a very effective fishing style that can produce some big fish.
An electric trolling motor also allows you to use your boat on electric motor only lakes, which are often much less crowded and far more peaceful than lakes that allow gas motors.
Now that we've discussed a couple of reasons why you might want a trolling motor for a pontoon boat, let's review what type of motors are best and how to install one yourself.
Best Trolling Motor Type for Pontoon Boats
While you could in theory install a transom-mounted trolling motor to a pontoon boat, it would be more complicated and much more difficult to control. That's why the best type of trolling motor in this case is a bow-mounted one.
Bow-mounted trolling motors will allow you to control the motor with a foot pedal, leaving your hands free to fish if that's what you primarily do with your boat. There are also many models of bow-mounted trolling motors that allow you to control them with a remote control, so you can be comfortably seated in your captain's chair while you operate the trolling motor.
In order for the propellor to reach the water line from the bow area of a pontoon boat, you'll need a trolling motor that has a long shaft. For most pontoon boats, you'll need a shaft length of at least 48 inches, but a longer shaft may be required for your specific boat. A good rule of thumb is to measure from where you plan to mount the motor to the waterline, then add 20 inches to get your ideal shaft length.
Provided you do a little research and choose a trolling motor from a proven manufacturer, you should be able to achieve your desired results.
Installing a Trolling Motor on a Pontoon Boat
Installing a bow-mounted trolling motor to a pontoon boat is surprisingly less complicated than it may seem. You'll need an electric drill, something to make marks with, some hardware, and hand tools like screwdrivers, wrenches, and a socket wrench.
You can mount the trolling motor dead center on the bow, or on either side of the bow and angle it towards the center. Either will work fine as long as you install the motor so the shaft is as close to the center of the bow as possible, which will yield the best performance.
Before you start drilling holes to directly mount a trolling motor to the bow, I highly recommend using a quick-release bracket. A quick-release bracket is installed directly to the boat, then the trolling motor fits onto the bracket and is secured with some sort of pin.
The quick-release bracket allows you to remove the trolling motor very easily when you don't need it, which is great for families who use their pontoon boats for more than just fishing. Just make sure to get the correct bracket for the model of your trolling motor.
Once you've decided on where to mount the quick-release bracket, drill holes in the deck so they line up with the hardware holes on the bracket. Next, use the appropriately sized nuts and bolts to secure the bracket. Make sure to use stainless steel hardware to avoid corrosion and use lock nuts so the hardware doesn't come loose.
Now that the quick-release bracket is installed, you can simply secure the motor onto the bracket. You'll need a battery for your trolling motor as well, but to keep it out of the way a good spot to store it would be in the storage compartment under one of the front seats.
If the trolling motor has a foot pedal, you can install it onto the deck with hardware using the same method as the quick-release bracket.
It's as easy as that, so if you've put off installing a trolling motor on your pontoon boat because you thought it was too complicated, think again.
Trolling Motor Power for Pontoon Boats
Electric trolling motors are measured for power by pounds of thrust as well as voltage. For most pontoon boats, you'll need at least 55 Lbs. of thrust and a 12-volt system (one battery).
This will vary by the size and weight of your boat. To better determine how much power you'll need, Minn Kota, an industry leader for trolling motors, has a great motor selection guide that will help you determine what thrust and voltage you'll need for your boat.
In Summary
If you've been thinking about putting a trolling motor on your pontoon boat, or if you're still on the fence about whether you can turn one into a fishing boat, this is your sign that it can be done and it's easy to DIY with a few simple tools.
More and more people are installing electric trolling motors on their pontoon boats to make them more versatile, so don't fall behind the times and get one for yourself!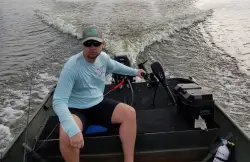 Latest posts by Alex Johnson
(see all)