Luckily for us boaters, there's more than one way to power a boat. This means more variety, so we can find a boat and motor that fits our needs, desires, and personality.
A common type of boat motor that's been around for a long time is the inboard motor. These motors have their advantages, disadvantageous, and interesting facts, just like all the other types of boat motors that are currently produced.
Here we'll break down what makes inboard motors unique so you can determine if it's the right fit for your boating needs.
What is an inboard motor?
An inboard motor is a 4-stroke motor that is very similar to a car engine. The engine sits inside the boat itself and powers a drive shaft that turns a propellor, providing the propulsion. To steer, a rudder sits behind the propellor and is controlled by a steering wheel at the boat's helm.
Here's an example of a boat with an inboard motor:
Not to be confused with a sterndrive or inboard/outboard motor, inboard motors are a fairly simple design that is very effective when equipped on certain boats.
There are two primary types of inboard boat engines:
1. Direct drive – the engine faces to the rear and is directly connected to the driveshaft. Direct drives must be placed in a more forward position in a boat, which helps with engine power, but it leaves less space for the cabin and seating areas.
2. V Drive – the engine faces forward and redirects the driveshaft towards the stern giving the name to the "V" shape. V drives lose efficiency and power because of this but can be placed at the rear of the boat, leaving more space for the interior.
This illustration shows the difference between the two drive types: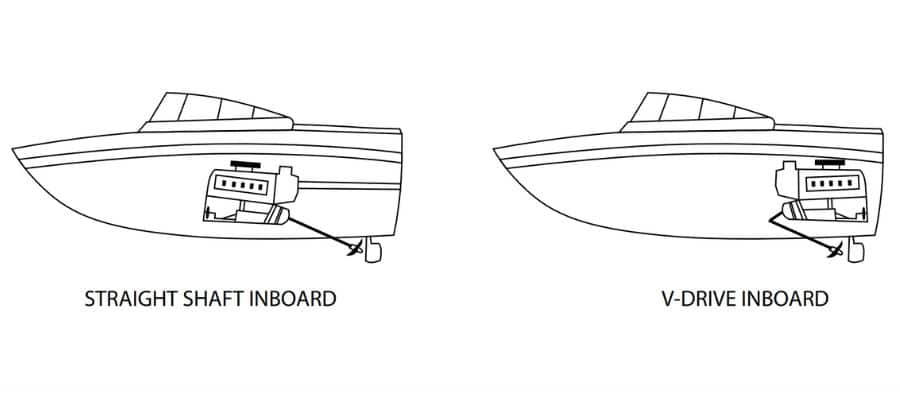 Inboard motors are a fairly simple design, and if you're used to working on cars, the components will be fairly familiar. For certain boats and uses that we'll explain soon, inboard motors are a great choice.
History of the inboard motor
Inboard motors were one of the first types of engines used to power boats without the use of sail or oars.
Tracing their roots to the 19th century, the first boat engines were steam-powered. Once fuels such as gasoline and diesel came into use in the late 1800's, inboards were created for petroleum-based fuels and boat engines became more powerful and fuel-efficient because of them.
Although the inboard boat motor was one of the first widely used fuel-burning propulsion systems, much of the same design is still used today.
What kinds of boats use inboard motors?
While some types of boats have the choice of an inboard or outboard motor, there are some boats that have to use an inboard because of the size and shape of the boat.
A few common recreational boats that are typically equipped with an inboard motor are:
Wakeboard/ski boats
Bowriders
Cigarette racing boats
Larger cruising boats i.e., cuddy cabins, cabin cruisers, yachts
Due to their higher torque ratio and the size limitations of outboard motors, the largest commercial vessels use inboard engines. In fact, some of the largest engines in the world are inboard engines used to power large ships. These vessels include:
Tanker ships
Naval vessels
Cruise ships
Container vessels
Barges
Inboard motors have many uses, so there's not much they can't do. Although they're not perfect for every situation, chances are there's an inboard motorboat that will suit your needs.
What are the advantages of inboard motors?
Related article: Inboard vs. Outboard Motor (Ultimate Comparison)
Inboard motors have many advantages that make them useful for many boating situations.
These advantages include:
Quiet compared to outboards
Higher torque for larger boats
Better suited for watersports i.e., wakeboarding, tubing, water skiing
Allows for a swim platform at the stern
Easier operation
If these benefits that can be had from an inboard motor sound appealing to you, you may want to dig deeper and seriously consider an inboard motor for your next boat.
What are the disadvantages of inboard motors?
There is no boat motor that can do it all and be used for every situation. Inboard motors have some inherent disadvantages you'll want to consider before making the decision on what type of motor you'll need for your boat.
The disadvantages of inboard motors include:
Higher upfront cost
More labor intensive and frequent maintenance
Heavier, not portable as opposed to outboards
Limits cabin and seating space
More difficult to maneuver compared to outboards
Trim cannot be fully displaced out of the water
These important disadvantages may make or break your final decision, so keep these in mind when searching for a boat that will best suit your needs, goals, and budget.
Some boaters won't go anywhere near inboards because of these facts, while other boaters who prefer inboards see the disadvantages of other motor types as greater. At the end of the day, it may just come down to personal preference.
How are inboards different from sterndrive motors?
It can be easy to confuse inboard and sterndrive motors as one and the same. After all, they are both inboard motors, technically speaking.
Stern drives are a combination of a standard inboard motor and an outboard motor. This is why they are often referred to as inboard/outboard motors due to the fact that they have mechanical characteristics of both.
Inboard/outboard motors have an outboard-like lower unit attached to an inboard engine. The lower until is where the propellor is attached and a steering mechanism is outfitted to allow it to act as the rudder.
True inboards simply have an engine connected to a driveshaft. The driveshaft turns the propellor, and a rudder connected to a steering wheel controls the steering. This simpler design is what many inboard motor enthusiasts attribute to as the reason why standard inboard motors are more reliable.
Are inboards better than outboard motors?
No inboard is better than any outboard and vice versa. What will determine whether an inboard, sterndrive, or outboard is right for you will depend on:
Desired use/purpose
What kind of conditions you'll be boating in i.e. shallow water, salt water, etc.
Budget
Boat size
Inboard motors are uniquely suited for a few uses that put them above outboards. These uses include:
Watersports
Large boats
Availability for a swim platform
Quieter and easier operation
If these factors are part of your checklist, then an inboard motor may be the right choice for you after you weigh out all the other factors.
How much do inboard motors cost?
Inboard motors are available at a variety of prices depending on size, whether new or used, and the type of boat that's built around them.
Because inboard motors are permanently affixed to the hull of a boat, they are not easily moved or replaced. This means when you purchase a boat, the inboard will most likely already be installed.
The price of the inboard motor will be less of a factor than everything else for the total cost of purchasing an inboard motorboat. However, inboards, in general, cost more than outboards.
Inboard motors can cost anywhere from a few thousand dollars to well over $100,000. It will just depend on the size of the motor and the type of boat it's equipped with.
Maintenance for inboards is also more costly because they are not easily accessible and require more meticulous maintenance and wintering needs. If the ongoing cost and effort of maintenance are not attractive for you, you may want to consider an outboard motor instead.
What are some of the best inboard motor brands?
Many manufacturers make inboard motors, and some are better than others, as is true with most things.
Many boaters agree there are a handful of inboard motor brands that stand out against the competition. These include but are not limited to:
Volvo
Mercury
Beta Marine
Scania
Volkswagen
While not as notable as some of the outboard motor brands, inboard engines from these companies are some of the most well-built on the market.
How fast can inboard motors go?
Inboard motors are used on a variety of different vessels with different thresholds for horsepower and speed.
Although there is no established world record for a top speed with an inboard motorboat, there is no reason they can't reach blistering speeds.
A common type of boat that uses an inboard motor is what's called a cigarette boat. These boats have a long and deep hull and are equipped with high horsepower engines.
With these types of boats and other racing-style boats equipped with powerful inboard engines, speeds up to and in excess of 100 MPH are certainly attainable.
Conclusion
With the continued popularity of outboard motors, the inboards may seem to be an obsolete predecessor. This is simply not the case, as inboard motors still have an important role in many uses and different types of boats on the water today.
There are still a few positive attributes to the humble inboard motor, and if you love watersports like skiing or wakeboarding, it's hard to justify any other option. The same is true for larger vessels that an outboard motor just wouldn't provide enough power.
We hope this article helps you weigh your options for your next boat purchase so you can find the boat and motor combination that will make your boating trips more enjoyable for years to come.